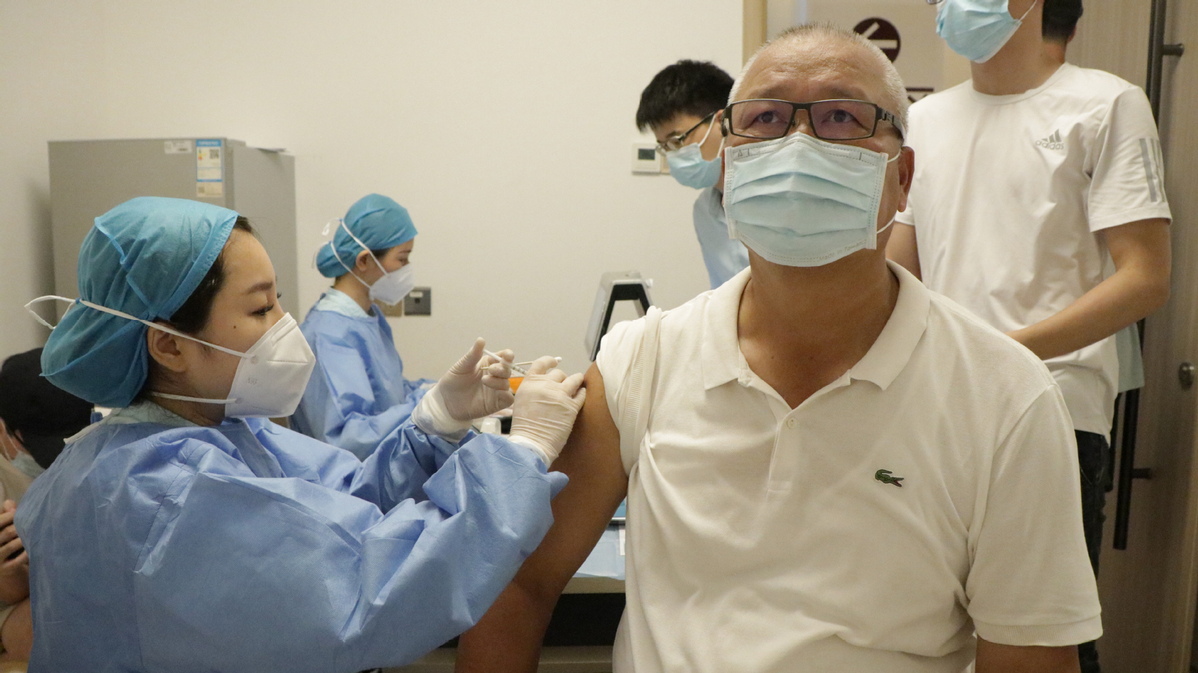 A Taiwan compatriot receives a dose of COVID-19 vaccine in Guangzhou, South China's Guangdong province, June 18, 2021. [Photo/Xinhua]
China urged the United States on Monday not to use vaccine assistance as a form of political leverage to interfere in China's domestic affairs after the US delivered 2.5 million COVID-19 doses to Taiwan.
Foreign Ministry spokesman Zhao Lijian said at a news conference that China always supports anti-pandemic cooperation and has made positive efforts to ensure it happens.
Despite the goodwill of the mainland and Taiwan compatriots' urgent need for vaccines, the Democratic Progressive Party has obstructed the shipment of mainland-produced vaccines to the island and even lied that the mainland had blocked its procurement of vaccines, Zhao said.
Out of its self-interest, the DPP constantly pursues political manipulation of anti-pandemic cooperation, turning a blind eye to the health of Taiwan people and running counter to the humanitarian spirit, he said.
Ma Xiaoguang, spokesman for the Taiwan Affairs Office of the State Council, said on Monday that the mainland has repeatedly expressed its willingness to make the utmost efforts to help Taiwan people overcome the pandemic and provide vaccines to them.
However, the DPP continues to play a political game of creating cross-Straits confrontation and Taiwan people still cannot receive enough safe and efficient vaccines from the mainland. Precious time to combat the pandemic has been wasted, Ma said.
Meanwhile, Zhao expressed strong dissatisfaction and opposition to the "blackmails and threats "from Washington after a US official said China will risk international isolation if it refuses a "real" investigation in its territory into the origins of the coronavirus.
The recent remarks by US National Security Adviser Jake Sullivan follow last week's call by G7 leaders, including US President Joe Biden, for another probe into how the virus originated.
"Accusing China of 'saying no' to investigating the origin of the virus is totally groundless, and it is even more alarmist to say that China will face international isolation," Zhao said.
As a scientific issue, the origin of the virus should not be politicized, he said. Zhao noted that the US has been relying on intelligence agencies, instead of scientists, to conduct assessments.
Washington's position on the issue is the opposite to the majority of countries, and the US is placing itself in international isolation, he added.