Xinhuang Customs Station, the first county-level customs station in Huaihua City, was unveiled on April 14, 2023. It is another landmark progress of Xinhuang County after it was approved to establish the Huaihua International Land Port Xinhuang Port Area. It will help accelerate dovetailing the county with international markets, and inject new drives and bring about new opportunities for expanding its opening up.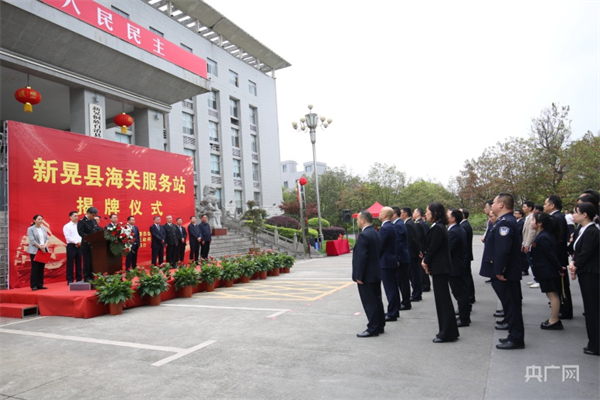 The unveiling ceremony of the Xinhuang Customs Station. (Photo provided by CNR correspondent)

Xinhuang County is located in Hunan's westernmost region. It is an important hub on the Hunan-Guizhou high-speed railway economic belt, the "western gate" of Hunan Province, and a frontline place connecting the central and western regions of China. It boasts diverse industrial clusters, abundant mineral resources, and outstanding goods consolidation capacity. As a direct participant in the construction of the Huaihua International Land Port, Xinhuang County had consolidated two million tons of goods in 2022, taking up 70% of the total of the Huaihua International Land Port.

Since 2021, Xinhuang County has aimed to build itself into a regional commercial and logistics hub, giving priority to commercial and logistics sector as one of the six pillar industries for county development. It has proactively promoted opening up and pushed its foreign trade to a new step.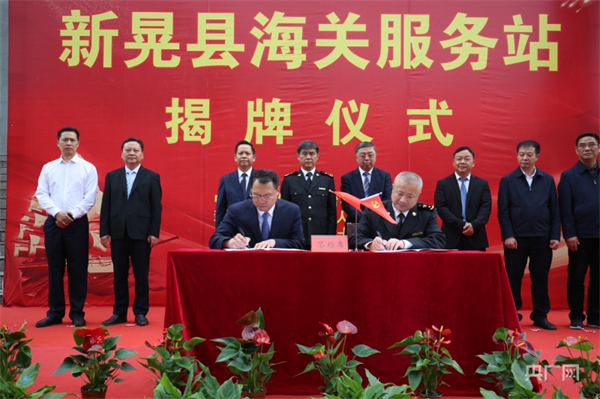 The Xinhuang Customs Station will offer convenient, efficient, and standard services to enterprises. It will help optimize the port business environment, improve convenience of customs clearance for imports and exports, and provide enterprises with comprehensive services including policy advisory, operational guidance, and emergent clearance, so as to boost export of Xinhuang's featured industry.