¡¡¡¡Huitang Hot Spring
¡¡¡¡(en.changsha.gov.cn)
¡¡¡¡Updated: 2014-08-05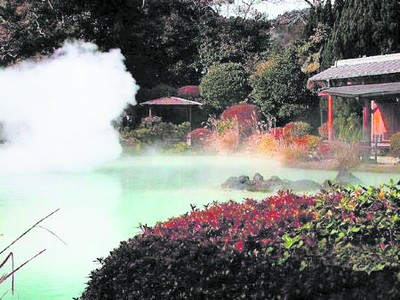 ¡¡¡¡Huitang hot spring in the town of Huitang in Ningxiang county is known nationwide as the best hot spring resort in Hunan province. The resort is perfect not only for healing and leisure purposes, but also conferences and business. It is 80 km away from provincial capital of Changsha and is adjacent to the hometowns of former Chinese leaders Mao Zedong and Liu Shaoqi.
¡¡¡¡Huitang is one of China¡¯s most important hot springs with an area of 1,300 square km. Its heat originates mainly from the magma in the Yan and Wei Mountains, but radioactive disintegration and chemical heat also contribute. In recent years, Ningxiang county has invested heavily in the spring¡¯s development with the aim of attracting tourists from across the nation.
¡¡¡¡The Xiangdian Huitang Hot Spring Mountain Villa, a modern-style villa built in the 1980s, is situated 80 km northwest of Changsha. The villa expands over 20 hectares with a building area of over 70,000 square meters. It hosts 330 luxury guestrooms with 600 beds, 12 conference rooms and 10 dining halls that can accommodate a total of 500 people. The villa¡¯s amenities also include hot spring natatoriums, a bowling center, a driving range, tennis court, basketball court, library, KTV, Internet caf¨¦ and more.