¡¡¡¡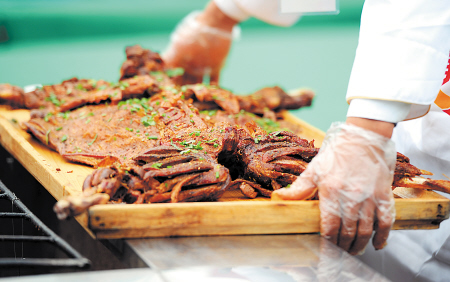 ¡¡¡¡Roasted Whole Lamb from Kaihui town [Photo/Changsha Evening News]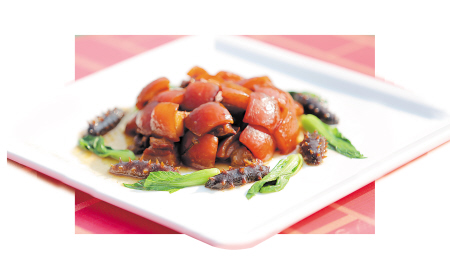 ¡¡¡¡Braised Black Pork from Shuangjiang town [Photo/Changsha Evening News]
¡¡¡¡The curtain fell on the cooking contest held in Lukou town, Changsha county, Central China¡¯s Hunan province on Nov 19. Altogether, 110 people ¨C covering both professional chefs and amateurs ¨C from 24 towns in Changsha county, took part in the competition.
¡¡¡¡After a series of selection processes, 12 Changsha county specialties were selected, including Roasted Whole Lamb from Kaihui town and Braised Black Pork from Shuangjiang town. Meanwhile, the 12 cooks, who included Li Youliang and Luo Peixian, got 10,000 yuan ($1,634) each in prize money.
¡¡¡¡The participants come from different lines of work, including overseas students, civil servants, driving coaches, as well as professional chefs.
¡¡¡¡Wang Moquan, a Chinese cooking master, and a national-level catering judge, was invited to the contest. He said that the activity was special, as both professional chefs and amateur cooks can participate in it. Speaking of the standards of what makes a famous dish, Wang added that any special cuisine filled with Changsha county flavors will be likely to get the honor, ¡°and it is also based on the concepts of eco-friendly, healthy, green, nutritious and clean,¡± he said.
¡¡¡¡According to a principal of the national demonstration base of innovation for modern agriculture in the county, the 12 specialties will be matched with artistic introductions and cultural connotations, making them representatives of Changsha county cuisines. In addition, the cooking process and material selection of the specialties will be written down to help more people learn about Changsha county.
¡¡¡¡The cooking contest went through three stages. The preliminary round was held in Kaihui town, Changsha county on Nov 14 to 15. The semi-final and final were on Nov 18 and 19 in Lukou town, Changsha county. The judging team is composed of three professional judges and 18 food afficionados.
¡¡¡¡The activity was planned and presented by Hunan Xingrui Hongda Culture Media.