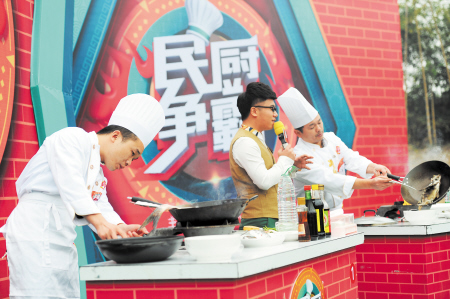 ¡¡¡¡Cooks prepare their specialties for the semifinals of the cooking contest held in Lukou town, Changsha county, Central China¡¯s Hunan province on Nov 18, 2014. [Photo by Zou Lin]
¡¡¡¡After several fascinating knockout rounds, 24 competitors reached the finals of an exciting cooking contest in Changsha county, Hunan province on Nov 18.
¡¡¡¡The cooking contest is held to find out the most distinctive dishes of Changsha county, and, 12 chefs, along with 14 Changsha county specialties, will be selected by website votes and an on-site selection, according to local authorities. It is expected to promote the popularity of Changsha county specialties and develop the local culinary culture.¡±
¡¡¡¡¡°During the semifinals, 48 cooks were divided into 24 groups according to the cuisine style of their specialties,¡± said a principal of Hunan Xingrui Hongda Culture Media, the organizer of the event. ¡°Judges give their professional reviews in the contest and dishes featuring Changsha county flavors are more likely to be selected.¡±
¡¡¡¡Besides showing characteristics of Changsha county¡¯s flavors, the selected specialties are also eco-friendly, healthy, nutritional and clean.
¡¡¡¡Luo Peixiang, a contestant from Shuangjiang town, Changsha county, was the lucky one reaching the finals for his specialty, ¡°Braised Luodai Black Pork¡±. Luodai black pork is a special dish in Shuangjiang town. It is a typical green food in the town without any additives, fat but not greasy, tasting as good as it looks.