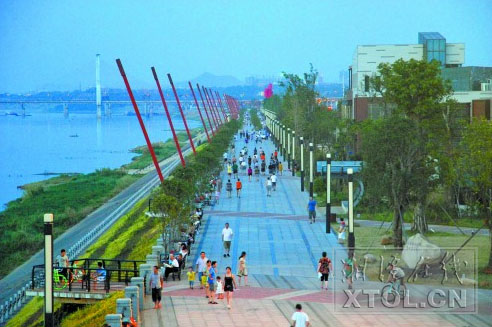 (Citizens are roaming around Xiang River scenic belt.)
  Rednet(Xiangtan) It has become the most pleasant thing for citizens of Xiangtan to roame around Xiang River scenic belt while enjoying the wind, the music and the beatiful sunset after supper. They have developed a good habit of walking along Xiang River scenic belt for leisure and recreation since the belt was built.
  Xiang River Eest Bank Scenic Belt of Xiangtan, total length of 11.4 km, stretches from zhubugang highway bridge of shangrui highway to 800m upstream of NO.1 Xiang River bridge. The scenic belt is divided into two parts: one in city center and the other on the outskirts of Xiangtan.
Translated by Zhou Qian.
Link: 湘潭湘江风光带成市民夏日纳凉好去处(图)