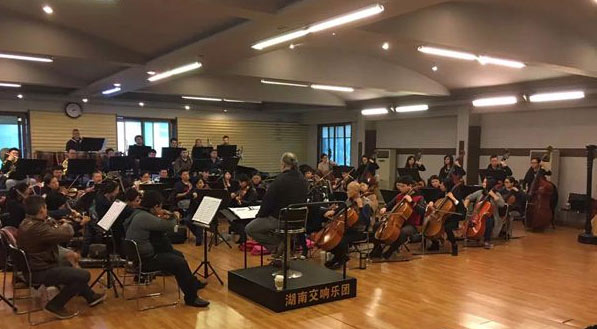 Russian conductor Mikhail Arkadev has his first rehearsal with Hunan Symphony Orchestra before the opening ceremony of Hunan Music Season 2016.
Time: Mar. 11, 2016
Venue: Hunan Concert Hall
This year, Russian famous musician Mikhail Arkadev will put on performance at the opening ceremony of Hunan Music Season 2016 on this coming Friday or Mar. 11.
Mr. Arkadev had his first rehearsal with Hunan Symphony Orchestra on the afternoon of Mar. 8, 2016.

Pieces of music to be performed at the opening ceremony of Hunan Music Season are as follows.
1. Mikhail Ivanovich Glinka¡¯s Ouverture Russlan and Ludmilla
2. Peter Lynch Tchaikovsky¡¯s Nutcracker Suite, Op.71
3. Peter Lynch Tchaikovsky¡¯s Symphony No.5 in e Op.64
Background information:
Mikhail Arkadev, an Honored Artist of Russia, began his formal musical studies at the Moscow Conservatory in 1974 - following just three years of self-instruction. In 1978, he entered the Gnessin Institute in Moscow (currently the Russian Music Academy), studying piano under Prof. A.A.Aleksandrov, as well as conducting, composition and theory, graduating in 1988. He concluded his musical studies at the Moscow Institute of Art Criticism, earning a Ph.D. in Musicology in 1993, with particular focus on issues of performance and musical aesthetics (phenomenology) - as seen in his thesis "The Temporal Structures of the New European Music."
Mr. Arkadev's performing career began prior to his graduation, and has included solo, concerto and accompanying work. Most celebrated perhaps is his long-standing collaboration with baritone Dmitry Hvorostovsky, which has led to several recordings (including a Phillips release of songs by Tchaikovsky, Rachmaninov and others) and international tours. He has also released recordings of solo piano music, including those featured here at the Classical Archives.
Beyond his work as a pianist, Mr. Arkadiev is also an active composer and conductor. He has written works for piano, voice, and various chamber configurations, as well as a Mass for choir and organ. He has been a guest conductor with several orchestras and opera companies, including the Moscow Philharmonic, the Tchaikovsky Radio Symphony, and the OrquestraSinfonicaBrasileira in Rio de Janeiro. He is currently the principal conductor and music director of the Volgograd Opera. He has been the music director of the RussischeAbende (Russian Evenings) Chamber Music Festival (Schleswig-Holstein, Germany) since 1988, and regularly gives Master classes in Moscow, St. Petersburg, Vienna, Budapest, Brussels, and elsewhere.

Reviews
"The pianist Mikhail Arkadev was remarkable, technically beyond reproach, and most importantly, caught the subtleties and spirit of the singing with distinctive interpretation."
San Francisco Chronicle
"Mr. Arkadev proved an exemplary collaborator [with Dmitry Hvorostovsky]. He seemed at first too deferential in the earliest numbers, by Caccini and Cesti, but his little, flowering lute-like excrescences around the voice put in relief his skill at laying down just the right carpet of sound for the early Baroque."