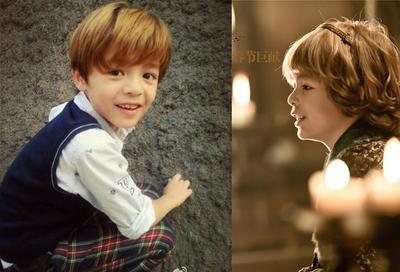 Do you remember the nine-year-old Xi Mengzi, a cute half-bred boy who ever participated in HNTV's popular original campus documentary program Grade One. He has become the child star ever chasing after Best New Performer ofthe 35th Hong Kong Film Awards by the film Dragon Blade directed by Li Rengang.

Xi Mengzi is not only the only representative of the film Dragon Blade but also the youngest participant in the 35th Hong Kong Film Awards. In the film, he acts as a Romanian prince, partnering with international superstars such as Jackie Chan, John Cusack, Adrien Brody, etc. Although he fails to be nominated, his impressive performance in the film wins favor of fans.

Now, Xi Mengzi plays the childhood role of You Tong in Demon Girl, a HNTV self-produced drama. He also joins Francis NG, Miriam Yeung and Wang Shiling in the New Year Blockbuster Merry Christmas Happy New Year.

Xi Mengzi now learns in Changsha Lushan International Experimental School.