The 2016 China Airport Development Conference and Exhibition kicked off in Changsha, capital of Hunan province on May 25.
  Around 400 experts and scholars from the airport sector, including airlines and airport construction and design agencies, will look into the industry's ten year anticipated development trends from May 25 to 27.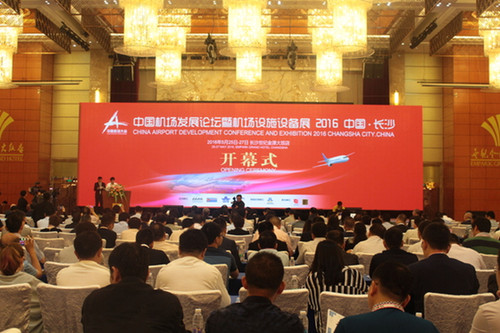 The opening ceremony of the 2016 China Airport Development Conference and Exhibition in Changsha, May 25. [Photo / China Daily]
  According to a guideline issued by the State Council, by 2020 the country will have more than 500 general aviation airports in cities, major agricultural areas, major forest regions and over 50 percent of 5A tourist scenic spots.
  It also plans to increase the number of general aircraft, including helicopters and private jets, to more than 5,000 by 2020. Total annual flying time is anticipated to rise to 2 million hours, it added.
  China has seen a rapid development in its general aviation industry. The latest data show that as of the end of 2015, the country had more than 300 airports, 281 enterprises, and 1,874 aircraft.
  Zhang Baojian, regional vice-president of the International Air Travel Association (IATA) North Asia, said that China, with its large middle class, is expected to surpass the United States to be the world's largest airline market.
  The limit of transport capacity is currently the major bottleneck of China's airlines sector, according to Herman, a senior executive from IATA. He said that the country's civil aviation passenger transportation reached 440 million in 2015, and it appears that the number will exceed 485 million this year.
  The Changsha conference is expected to boost airport infrastructure development in central and west China. Xia Xinghua, the chairman of the China Civil Airports Association, said that Changsha's location in Central China makes it a key to air traffic between east and west China. At present, Huanghua Airport in the city has opened 139 air routes to 118 domestic and international cities, said Changsha Mayor Hu Henghua during the opening ceremony.
  China's first home-developed low-speed maglev railway has recently started trial operation in the city, linking the airport with Changsha's high-speed rail station, which directly reaches 19 provincial capitals.
  There will also be an exhibition of high-grade and advanced airdrome facilities and equipment during the conference by more than 30 exhibitors.
  By Zhang Qiong, edited by Peter Nordlinger