柳建新介绍她的作品《寒梅》。 向一鹏 摄

Liu Jianxin introduces her work Winter Plum (the photo by Xiang Yipeng)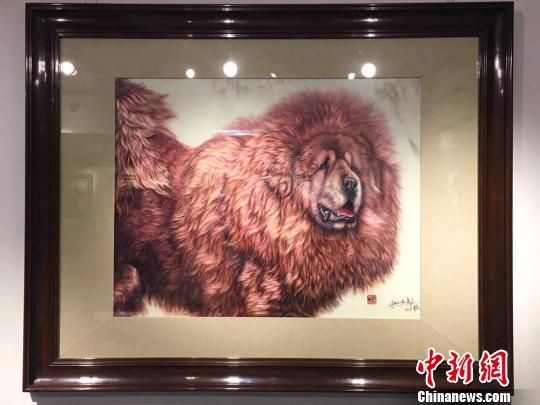 柳建新作品《天界卫士》。 柳建新供图 摄

A Lion by Liu Jianxin (the photo provided by Liu Jianxin)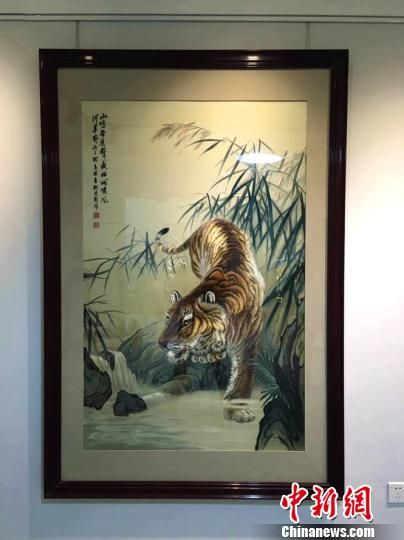 柳建新作品《威震山河》。 柳建新供图 摄

A Tiger by Liu Jianxin (the photo provided by Liu Jianxin)
"从事湘绣行业几十年,我觉得坚持传承需要一颗坚守的心,最重要的是必须秉承'工匠精神'。"15日,中国工艺美术大师、国家级非物质文化遗产项目湘绣代表性传承人柳建新在长沙雨花非遗馆接受记者专访时说。
"We need keeping faith in the spirit of the craftsman for Hunan embroidery inheritance," said by Liu Jianxin, the representative successor of Hunan embroidery, a national-level intangible cultural project in Changsha Yuhua Intangible Cultural Exhibition Hall on June 15.
柳建新是湖南长沙县人,今年65岁,15岁开始学习湘绣。50年来,柳建新创作了多幅优秀绣品,多次荣获国内大奖。她绣功精细,针法活泼,特别擅长运用"鬅毛针"法刺绣虎、狮、猫等动物,她的双面全异绣作品更是被外国友人誉为"魔术般的艺术"。
65-year-old Liu Jianxin, born in Changsha County, Hunan, has committed to Hunan embroidery since 15 years old. Over the past 50 years, she has created a number of prize-winning works for her elaborately vivid embroidering stitch skills. She excels at fluffy hair stitching to embroider animals like tigers, lions, cats, etc. Her two-sided embroidery with different colors and designs are praised as magic art by foreigners.
1996年,柳建新从湖南省湘绣研究所退休,创办了湘女绣庄,开始积极培养湘绣艺术人才,同时向全国乃至全世界推介湘绣艺术。
In 1996, Liu Jianxin retried from Hunan Embroidery Institute and established Hunan Women's Embroidery Shop to cultivate Hunan embroidery talents and promote Hunan embroidery to the world.
近两年,由于行业不景气,她的绣庄从往年的30多人锐减至12人。直到2015年,湖南省、长沙市两级领导走进绣庄调研非遗保护事宜,并建议给予产业扶持,情况才有了些许转机。
In recent two years, due to the sluggish market, her shop staff number has declined from over 30 to 12. Until Hunan provincial and municipal leaders came to the shop for intangible cultural survey in 2015, her shop began to receive a favourable turn with governmental industrial support.
柳建新表示,自己最大的心愿,就是希望有更多的优秀人才能够终身从事这个行业,将湘绣永远地传承发展下去。
Liu Jianxin expresses her greatest wish in life that there will be more and more embroidery talents inheriting Hunan embroidery for lifetime.
Chinese source: www. Chinanews.com
Original Link:
湘绣传承人柳建新:坚守需要秉承"工匠精神"