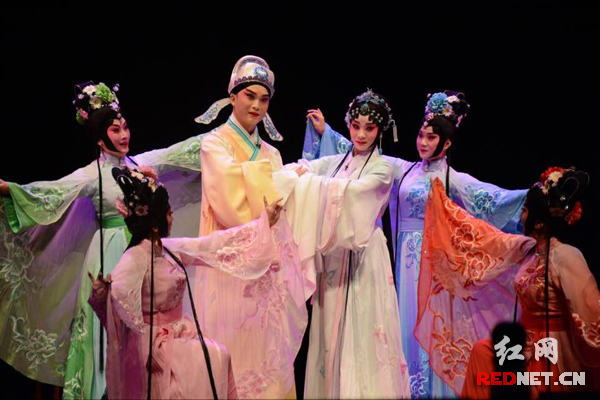 Romeo and Juliet in Kun Opera version debuts in Chenzhou by Hunan Kun Opera Troupe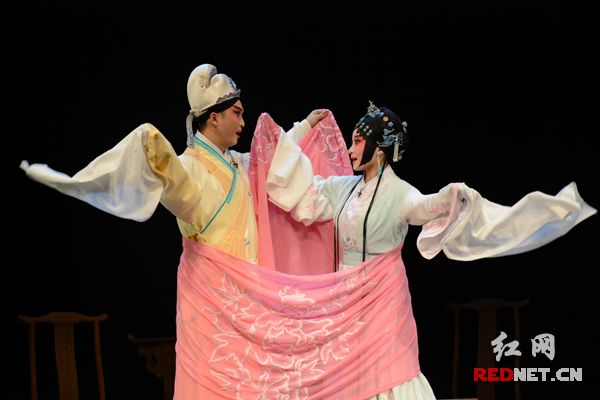 "罗密欧"与"朱丽叶"在花园幽会,互诉衷肠。
Romeo and Juliet date in the garden and converse with love feeling.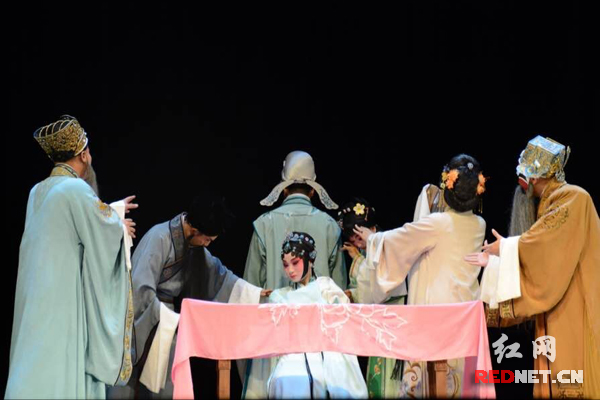 与莎士比亚原著不同的是,昆曲版《罗密欧与朱丽叶》最后以悲剧收场,两人双双香消玉殒。
Different from Shakespeare's original drama, Romeo and Juliet in Kun Opera version ends with a tragedy that Romeo and Juliet die in the end.
湖南省昆剧团团长罗艳(中)在剧中饰演朱丽叶母亲。
Chief of Hunan Kun Opera Troupe Luo Yan (middle) plays mother of Juliet in the opera.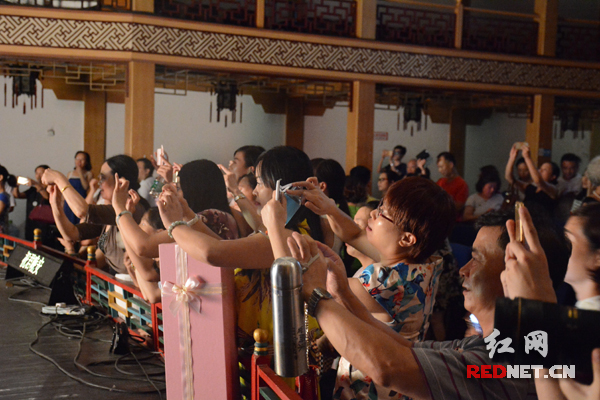 首演结束后,观众围拢到舞台前,排队与主演合影,或以拍照发微信表达对首演成功的祝贺。
At the end of debut, audiences line up to take group photos with leading actors or send photographs taken to WeChat's moments to celebrate the debut's success.
Rednet (Chenzhou): On the evening of July 30, the debut of Romeo and Juliet in Kun Opera version got a success in Chenzhou. In the early August, the opera will be performed in Edinburger Festival Fringe in the UK for three times.
Luo Yan says that, in order to memorize the 400thanniversary of the death of Chinese well-known dramatist Tang Xianzu and famous British dramatist Shakespeare, Shakespeare's Romeo and Juliet is chosen to be played in the form of Chinese Kun opera.
红网郴州7月31日讯(时刻新闻记者 汤红辉 通讯员 蒋莉 实习生 刘梦婷)30日晚,湖南省昆剧团的昆曲版《罗密欧与朱丽叶》在郴州成功首演。8月上旬,该剧将前往英国参加爱丁堡边缘艺术节,在英国演出3场。
2016年是我国著名戏剧家汤显祖、英国著名戏剧家莎士比亚逝世400周年。湖南省昆剧团团长罗艳介绍,为了纪念两位戏剧大家,湘昆决定把中国昆曲的样式来演绎莎士比亚的戏剧作品,最终选定了《罗密欧与朱丽叶》。