湖南省"湘戏晋京"展演活动在北京开幕
"Performances of Hunan Dramas in Beijing" opened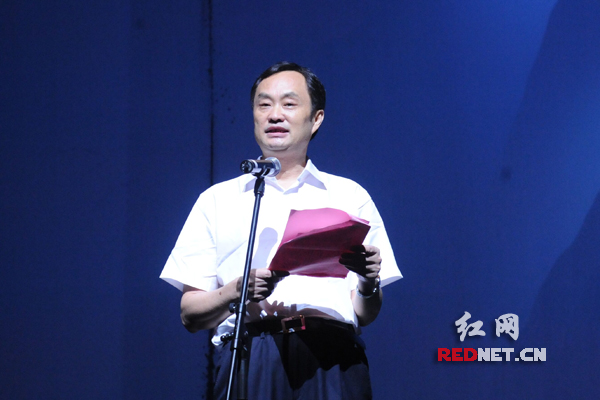 湖南省委常委、宣传部部长张文雄致开幕词并宣布活动启动。
Member of the Standing Committee of Hunan Provincial People's Congress and Director of Hunan Propaganda Department Zhang Wenxiong delivers the speech and announces the launch of"Hunan Operas Performed in Beijing".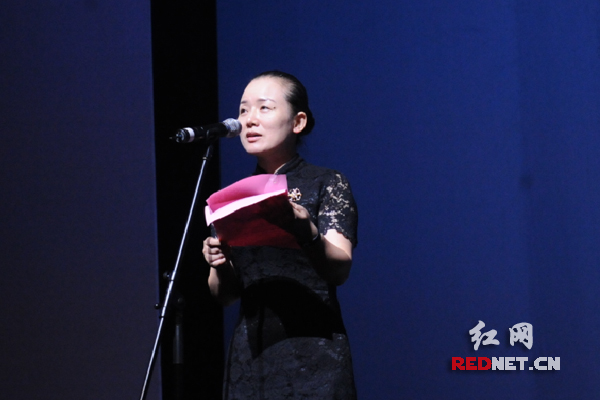 湖南省文化厅党组书记、厅长李晖主持开幕式。
Secretary of the CPC Leadership Group and Director-general of Hunan Department of Culture Li Hui presides over the opening ceremony.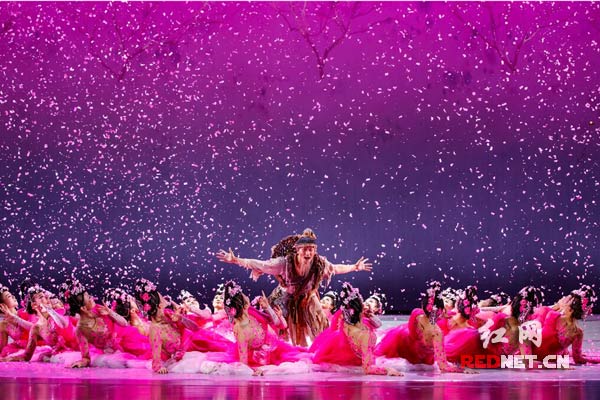 大型舞剧《桃花源记》
The full-length dance dramaPeach Blossom Spring
红网北京8月8日讯(时刻新闻记者 汤红辉 胡芳 通讯员 曾秋甫)今晚,由湖南省委宣传部、湖南省文化厅主办的"湘戏晋京"展演活动在国家大剧院拉开帷幕。大型舞剧《桃花源记》在国家大剧院演出。
Rednet (Beijing): On the evening of August 8, Hunan Operas Performed in Beijing hosted by Hunan Propaganda Department and Hunan Department of Culture raised the curtain in China's National Center forthe Performing Arts.The full-length dance dramaPeach Blossom Springwas performed in National Center for the Performing Arts.
此次"湘戏晋京"展演活动定于2016年7月26日至9月20日在北京举行。此次展演共有12台剧目在北京各大剧场陆续上演。
Hunan Operas Performed in Beijing is last from July 26 to September 20, 2016 in Beijing. There are 12 Hunan operas to be performed in Beijing's theatres.
01 舞剧《桃花源记》:完美演绎世人梦中"桃花源"
Dance drama Peach Blossom Spring: ideal Peach Garden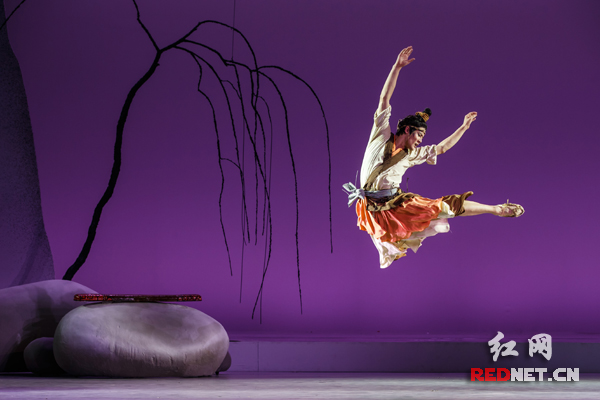 在国家大剧院,作为湘戏晋京演出的首场大戏,《桃花源记》演出获得极大成功。
As the first Hunan drama performed in Beijing, the dance drama Peach Blossom Spring gets a great success.
湖南省歌舞剧院不惧其难、知难而上——这不仅是因为"桃花源"可能与湘西的秀美景致有关,更是因为他们想传递广大人民追求美好生活的愿望;是因为"渔郎的曾经"不仅是"陶令的梦",也是我们先民的"中国梦"!
The dance drama performed by Hunan Song and Dance Theater not only shows beautiful sceneray of western Hunan, but also interpretes good wishes for life and even the Chinese dream of ordinary people.
02 湘剧《烧车御史》:刮起廉政清风
Hunan opera Royal Censor Xie Zhending: Public Integrity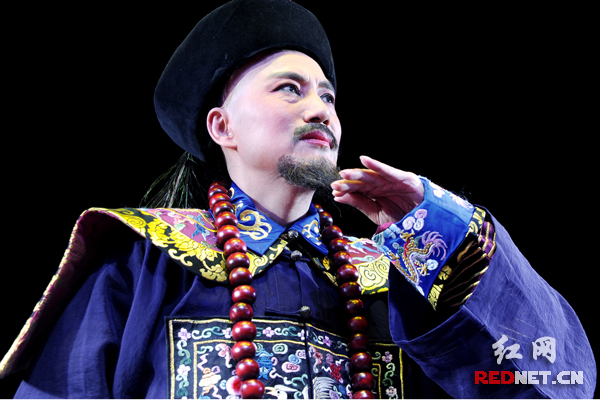 剧中被嘉庆皇帝称为"烧车御史"的谢振定是湖南娄底涟源市金石镇桃林村人,嘉庆时期出任监察御史。
Royal censor Xie Zhending in Jiaqing period of the Qing Dynasty is from Taolin village, Jinshi Town, Lianyuan County, Loudi City, Hunan Province.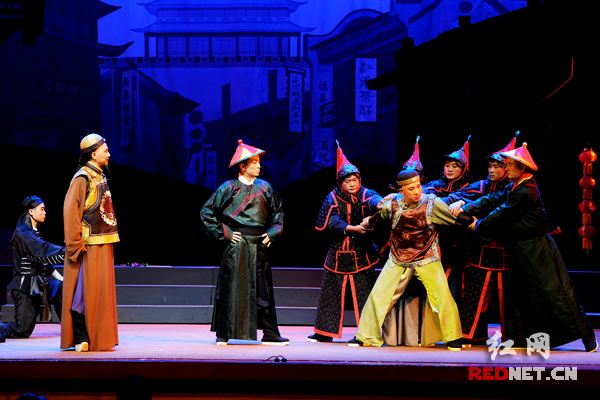 该剧以涟源历史名人谢振定"火烧和珅官车"的历史故事为原型,塑造了一个不畏强权、刚正不阿、铁面执法的光辉形象。
The opera takes the historical story of Lianyuan royal censor Xie Zhending burning He Shen's official carriage in Jiaqing period of the Qing Dynasty as a prototype. It depicts Xie Zhending, an image of upright and disinterested official.
03 音乐剧《天使合唱团》:湖南音乐剧的突破
Music drama Angel Chorus: breakthrough of Hunan music drama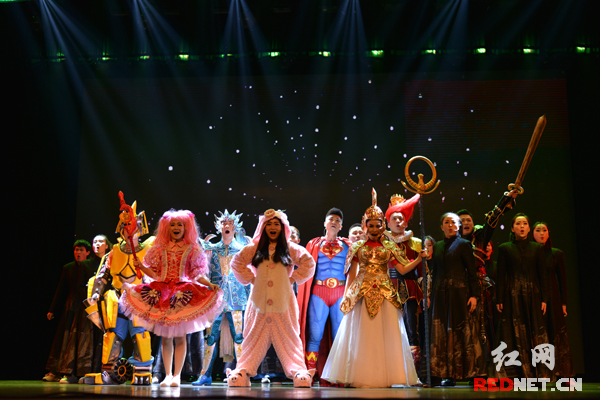 《天使合唱团》是一部关注青少年成长问题的音乐剧,由株洲市戏剧传承中心与民营戏剧团体联合制作。《天使合唱团》讲述了一群"问题少年"在合唱团中被音乐改变的故事。第五届湖南艺术节上,该剧获得"田汉大奖"。
Angel Chorus, a music drama concerning about growth of teenagersm, is jointly produced by Zhuzhou Drama Inheritance Center and Private Drama Group. Angel Chorus tells the story of problem teenagers changed by music in chorus. On the 5th Hunan Art Festival, Angel Chorus is awarded Tian Han Prize.
04 花鼓戏《我叫马翠花》:用喜剧风格表现传统美德
Hunan Huagu drama My Name is Ma Cuihua: traditional virtues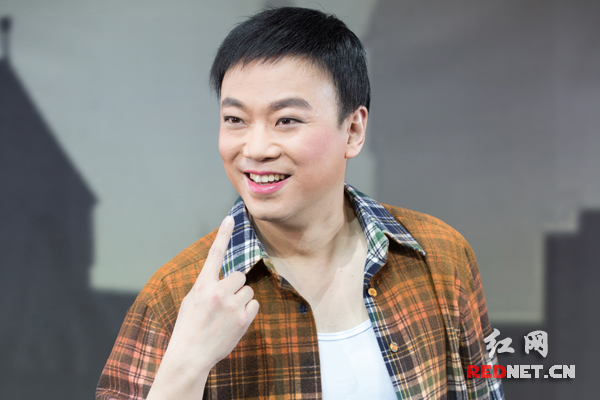 由湖南省花鼓戏保护传承中心新创作的现代花鼓戏《我叫马翠花》以小人物的视角展现社会正能量,表现普通人的中国梦,与时下倡导的社会主义核心价值观不谋而合。
My Name is Ma Cuihua created and performed by Hunan Huagu Drama Protection and Inheritance Center reveals social positivity and the Chinese dream of ordinary people that lives up to modern socialist core values.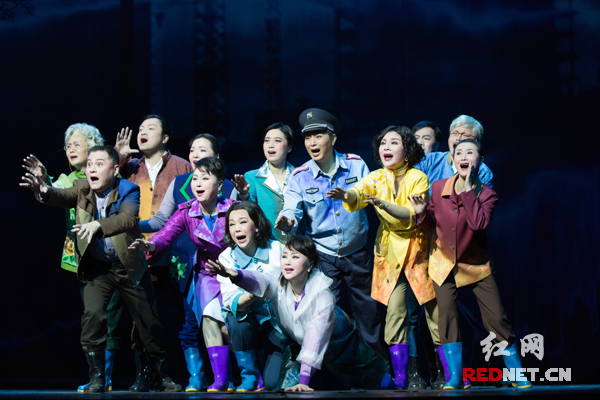 湖南花鼓戏幽默、明快、接地气,很适合表现现代题材。该剧的创新,不仅表现在题材的时代性,还表现在花鼓音乐的改革与创新。这部花鼓戏的曲词节奏更加自由化,还杂糅了现代舞蹈音乐的节奏元素,除了原来的二胡、锣鼓,乐队还配上了弦乐、木管,小提琴、大提琴、贝斯、长笛、单簧管、双簧管等西洋乐器。
Hunan Huagu drama is humorous, sprightly, mass-based and suitable for manifestation of modern themes. This drama is also innovative in music. Music in this drama is more free in rhythm that integrates rhythm elements of traditional and modern dance music. Besides Erhu, gong and drum, this drama applies western instruments such as string music, wooden pipe, violin, cello, bass, flute, clarinet, oboe, etc.
05 汉剧《孟姜女传奇》:用汉剧高腔唱响"湘妹子"
Legend of Meng Jiangnv: high-pitched tune of Han opera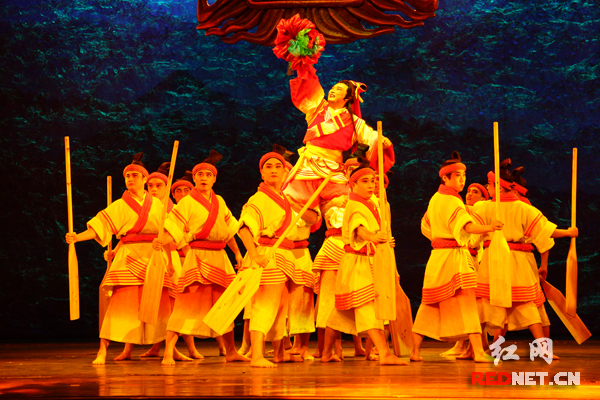 常德市汉剧高腔保护中心的《孟姜女传奇》打造了浓郁的湘北特色汉剧,体现了国家级非物质文化遗产名录中常德汉剧高腔和津市嘉山孟姜女传说的特色。
Legend of Meng Jiangnv, elaborately prepared by Changde Han Opera Gaoqiang Protection Center, is a large stage show featuring strong characteristics of northern Hunan and highly integrating national intangible cultural heritage items such as Changde Gaoqiaing (high tune) and Legend of Meng Jiangnv in Jiashan Mountain, Jinshi, Changde.
该剧的音乐在传统的基础上更时尚,舞台空间更灵动,服装化妆真实而有质感,表演更靠近现代人的情感,戏剧结构更富于时代的节奏。
This opera is more fashionable in music, more flexible in stage design, more authentic in costume and make-up, more emotional in performance and more rhythmed in structure.
06 京剧《辛追》:湘魂京韵写佳人
Beijing opera Xin Zhui: Hunan women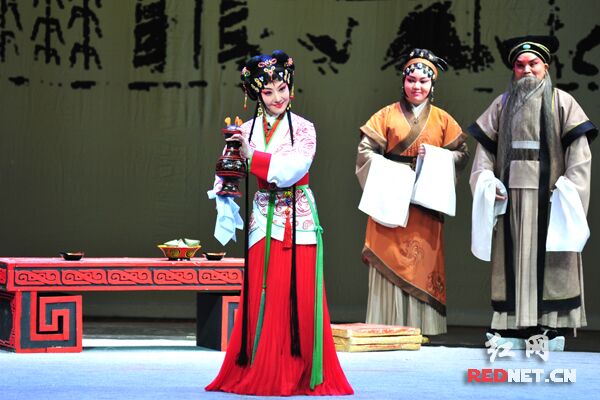 全剧以辛追的一生为主线,讲述了她与利苍和越两个男人之间的爱恨情仇。
The opera takes Xin Zhui's all life as the key to tell her love and hatred with two men, Li Cang and Yue.
《辛追》塑造了一个聪明能干、坚强勇敢的湖湘女子形象。在舞台表现上,舞蹈、音乐、语言等方面都运用了大量湖湘文化元素,让千年湖湘文化底蕴展现于舞台。该剧糅合昆曲和京剧演唱于一体,并融入湘剧、花鼓戏等湖南地方音乐元素。
The opera Xin Zhui molds the image of Xin Zhui, a bright and capable, strong and brave Human woman. A large number of Hunan cultural elements are added to dance, music and language performance on the stage. The opera mixes Kun opera and Peking opera sing, as well as local music elements of Hunan opera and Huagu opera, etc.
07 花鼓戏《齐白石》:展现"齐木匠"风雨人生
Huagu drama Qi Baishi: all life of Qi Baishi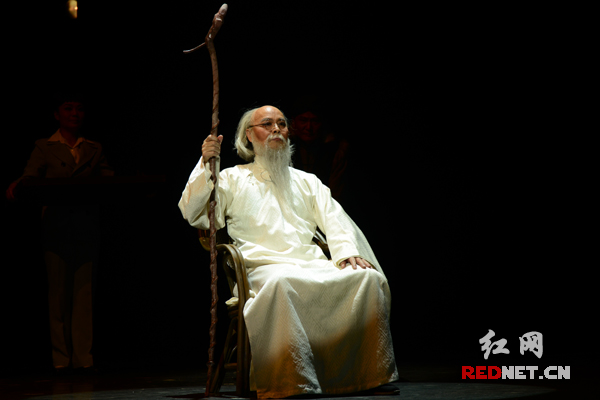 大型现代花鼓戏《齐白石》由湘潭市艺术剧院演绎齐白石近一个世纪的风雨人生,为了体现人物的质朴本色,整台戏在舞美上追求简洁、质朴。
The modern Huagu drama Qi Baishi interprets the life of Qi Baishi for nearly 100 years by Xiangtan Art Theater. In order to present Qi Baishi's simplicity, the drama pursues concise style in the stage artistic design.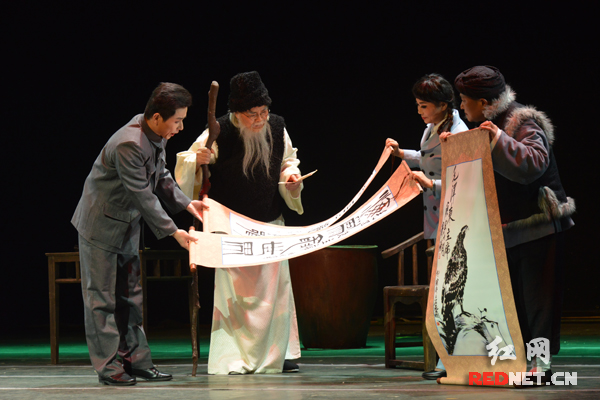 花鼓戏《齐白石》没有明显的场次结构,而是选取了齐白石一生中最有代表性的若干个故事,来展现齐白石的特质。在齐白石身上有着闪光的品质:质朴,执着,坚持,对艺术始终在孜孜不倦的追求!
The Huagu drama Qi Baishi has no obvious screening structure but choose the most representative episodes of Qi Baishi's life to display his charming personality such as simplicity, persistence in art.
08 舞剧《凤凰》:展示神秘湘西的音舞艺术
National dance drama Feng Huang:dance music art in western Hunan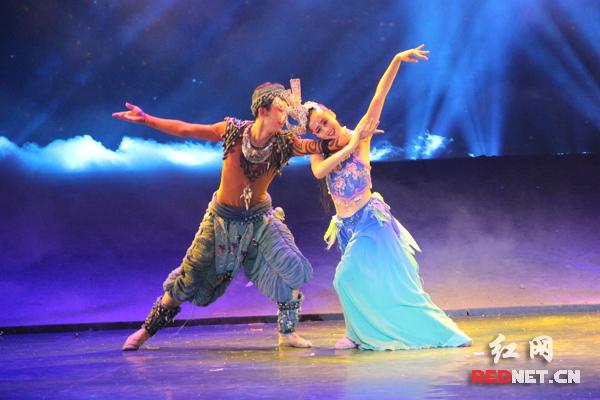 由湘西武陵山民族文艺传习中心(又称湖南省民族歌舞团)倾力打造大型民族舞剧《凤凰》,演绎的就是一个湘西苗族的神话故事,也是一个凄美的爱情故事。
The national dance drama Feng Huang performed by Hunan Ethnic Song and Dance Troupe interprets a fairy love story of Miao nationality in western Hunan.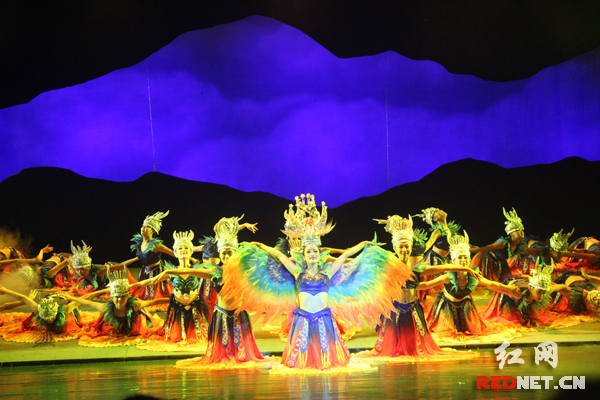 在舞蹈设计上,该剧既撷取了湘西苗族民间舞蹈艺术形式的精粹,又融合了现代舞蹈艺术的精华。剧中,湘西苗族的接龙舞、鼓舞、绺巾舞、手诀舞等十余种民族民间艺术形式根据剧情的需要,一一展示在观众的面前。
In dance design, this drama integrates essenses of Miao folk dance and modern dance, including Greeting Dragon Dance, Drum Dance, Liujing Dance, Hand Knack Dance, etc.
在编曲上,该剧的音乐融合了湘西苗族的祭祀曲调、喊山号子、苗唢呐,苗族叭谷调、苗歌高腔、苗歌水腔、巴代激腔等湘西苗族原生态音乐元素,配以交响乐的宏大气场和强烈穿透力,交织成充满震撼力的音场效果。
In music arrangement, this drama integrates Miao original ecology music and symphony, including Miao sacred tunes, Miao work songs, Miao Suona, Miao bagu tune, Miao songs in high-pitched tunes, Miao songs in Shuiqiang tunes, Badai Jiqiang, etc.
在服装设计上,该剧广泛容纳了湘西苗族服饰所包含的银饰、刺绣、印染等诸多优秀的传统因子,并在此基础上对制作材料、花式变化等进行了改良。
In costume design, this drama includes silver ornament, embroidery, printing and dyeing of Miao costume, and improves Miao costume in makings and design patterns.
在舞美方面,该剧采用写意的风格进行设计布局。
In artistic stage design, this drama designs the layout in traditional Chinese freehand style.
09 巴陵戏《远在江湖》:忧国忧民的精彩演绎
Baling Demoted Offical Teng Zijing:worry before the people and enjoy after the people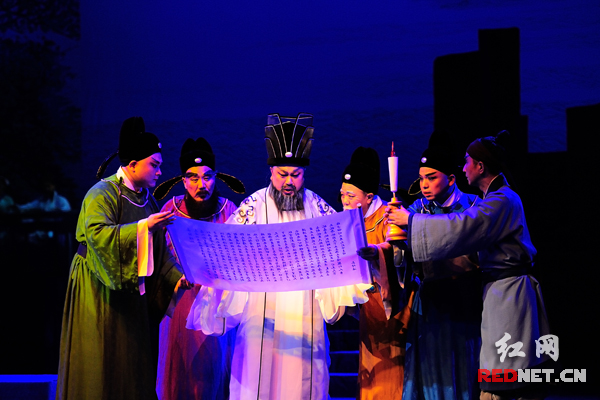 "先天下之忧而忧,后天下之乐而乐",巴陵戏新编历史剧《远在江湖》展示的是千古名篇《岳阳楼记》主题思想的践行者——滕子京的传奇故事。
Demoted Official Teng Zijing, a Baling drama in new historial play, shows the legend of demoted official Teng Zijing who practices the main idea of"worry before the people and enjoy after the people"stated in Yueyang Tower by Fan Zhongyan.
作为岳阳地方戏的巴陵戏,已有近400年的历史,堪称中国戏剧艺术"活化石",被列入首批国家级非物质文化遗产名录。
With nearly 400-year history, Baling drama (the local Yueyang drama) is known as living fossil of Chinese opera and listed into the first batch of national-level intangible cultural heritages.
10 湘剧《月亮粑粑》:演绎乡村女教师无私大爱
Hunan opera Moon Baba: selfless love of rural women teacher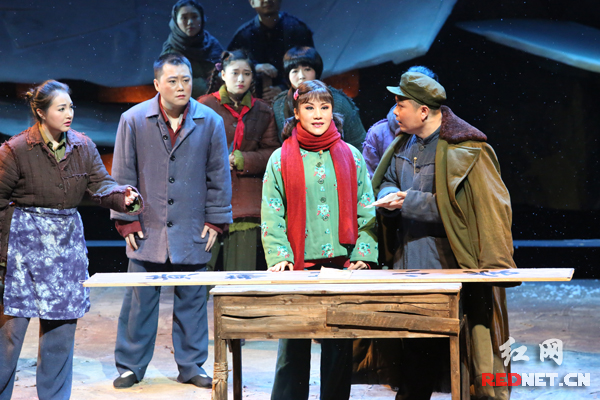 湘剧高腔《月亮粑粑》是湖南省湘剧院排演的新剧,体现了现代湘剧紧跟时代,贴近生活,细节展示的特点。
Hunan opera high-pitched tune Moon Baba performed by Hunan Opera Theater embodies modern Hunan opera's feathers such as keeping up with the times, close to life and detailed presentation.
《月亮粑粑》是一首诞生于农耕文明时期的童谣,它反映的是中国老百姓千百年来朴素的文化理想——将后代培养成国家的栋梁之才。
Moon Baba is originally a nursery rhyme developed in the agricultural civilization period, which reflects Chinese ordinary people's simple cultural dream for centuries that cultivating their descendants to be talented people.
11 湘剧《田老大》:湖南人演湖南人的故事
Tian Han: Hunan celebrity interpreted by Hunan people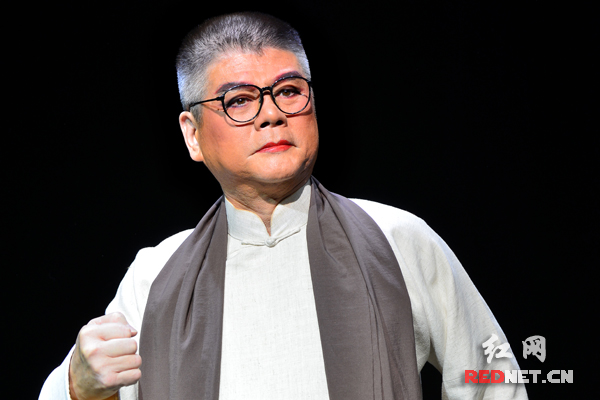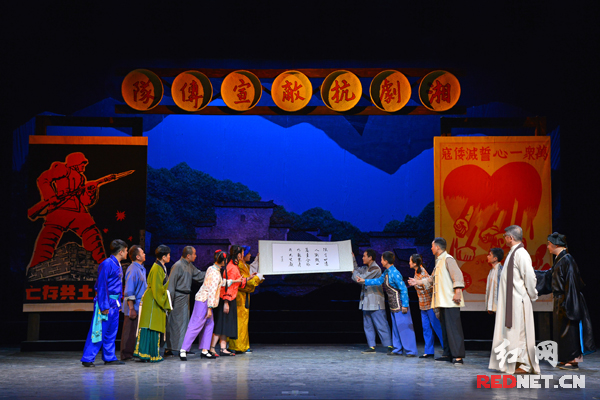 《田老大》是湖南人演湖南的故事、唱湖南的戏,紧扣湖南地域文化"湘剧",写出了田汉作为中国"戏剧魂"与湘剧这一剧种、湘剧伶人的深情厚谊,以及改革湘剧传统老戏,融入抗日宣传新思想的爱国主义情怀。这种写法,既立足湖南,突出了湘情、湘韵,又以湖南为代表放眼全国。
The Hunan opera Tian Han tells the story of Hunan celebrity Tian Han by Hunan actors.The opera focuses on Hunan regional culture and highlights Hunan spirit and affection through depiction of Tian Han's affection on Hunan actors and Hunan drama.
12 湘剧《赵子龙计取桂阳》:再现"湖南"赵子龙
Hunan opera Zhao Zilong Outwits Guiyang: Hunan-style Zhao Zilong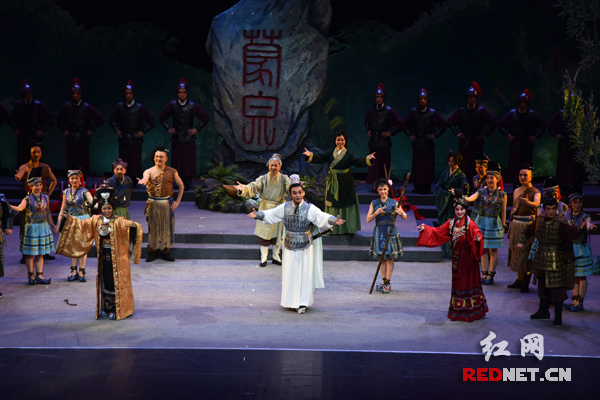 湖南桂阳县湘剧保护传承中心的新编大型湘剧《赵子龙计取桂阳》,生动地讲述了赵子龙不为利益所动、不贪美色、忠勇善谋、智取桂阳的故事。
Hunan opera Zhao Zilong Outwits Guiyang performed by Hunan Guiyang Opera Protection and Inheritance Center vividly tells the story of Zhao Zilong outwitting Guiyang.
湘剧《赵子龙计取桂阳》坚持传统又有创新,根据《三国演义》《三国志·赵云传》及在桂阳广为流传的赵子龙有关民间传说创作编写的。
The opera is compiled according to the Romance of the Three Kingdoms, The History of the Three Kingdoms: Zhao Yun, and Zhao Zilong's folk tales in Guiyang.
该剧在编曲上进行大胆创新,从现场排演效果来看,非常不错。编曲尹堂芳说:"音乐主要以弹腔以主,以高腔为辅,以昆腔点缀,同时还融入了地方小调、少数民族和现代音乐元素。"
The opera is bold in innovative music arrangement that music is Tanqiang tune based, high-pitched tune supplemented, melodies for Kunqu opera decorated, and integrates local minors, musical elements of the minority and modern society.