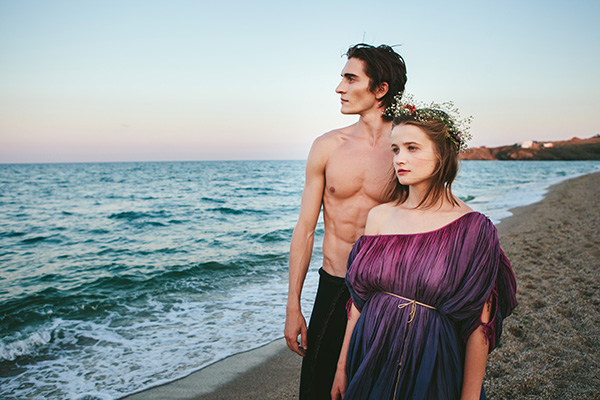 It might not seem like a big deal, but Russian films have just squeezed their way into China's lucrative market.
On Friday, two heavy-effect Russian blockbusters, Dragon and The Crew (Trailer), simultaneously opened in the world's second-largest movie market.
On its opening day, Dragon, also known as He's a Dragon, topped China's imported films' box-office charts by raking in 18.2 million yuan ($2.73 million), followed by The Crew at 11.3 million yuan, according to the live tracker Cbooo.cn.
Unlike Hollywood celebrities who land only in Beijing or Shanghai, Matvey Lykov, the lead actor of Dragon, diligently toured China-going from the northern city of Changchun to Fuzhou in the southeast to promote his debut feature.
Eight cities, one a day-from Aug 16 to 23-made it an exhausting and rare roadshow even by Chinese standards.
From showing off his Mandarin to revealing that his favorite movie is Ang Lee's Crouching Tiger, Hidden Dragon, the 29-year-old tried hard to connect with Chinese fans.
On his Sina Webo account, the Russian actor says he was closely watching the Chinese performance at the Rio Olympic Games.
In interviews with Chinese media outlets, he did not dodge questions on his muscles. And at every theater he visited, the handsome actor always wore a big, warm smile and posed for photos with screaming fans.
The effort seems to have paid off.
Despite Dragon being his first feature-length movie, Lykov is a heartthrob for Chinese female fans, and his follower count is now nearly 130,000 on Sina Weibo, the Chinese answer to Twitter.
Asked why he is doing such intensive promotion for the film, Lykov says: "I know the schedule is very tight, but I am really excited to meet so many Chinese fans."
Lykov, who has also worked with the fashion house Gucci, and who speaks five languages, says he is studying Chinese, and hopes to act in Chinese movies in the future.
Meanwhile, Dragon's director, Indar Dzhendubaev, who is confident about competing with Hollywood, says: "Russian films have a connection with Chinese culture. This link can help us establish a new level of communication."
He says Chinese fans had noticed Dragon earlier this year, which made the film a hit in cyberspace.
The movie was released in Russia in December, and the subtitled version soon reached several video-streaming sites, such as Bilibili.com.
Adapted from the best-selling novel Ritual written by Marina and Serhiy Dyachenko, Dragon is a romance set in a fictionalized era.
In the story, a princess is kidnapped by a dragon during her wedding ceremony and falls in love with the kidnapper.
The story also has some Chinese elements, such as using shadow puppetry to tell a story in the movie.
While the film performed poorly in Russia and received only 6.3 points out of 10 on the review site IMDb, it was different with the Chinese, who showed a lot of enthusiasm for the so-called "Mary Sue-styled" film (referring to an over-idealized female character loved by the men around her). It received 7.3 points out of 10 on China's largest review site Douban.com.
Thanks to online novels, China has a lot of similar TV series and movies.
Before Dragon was officially released in China, the 110-minute movie was downloaded 5.6 million times from online sources and reviewed 270,000 times on social media platforms, according to Mtime.com.
To industry watchers, Dragon is similar to the American coming-of-age romance The Twilight Saga.
Yu Ruoran, a Beijing-based movie critic, says: "Such romances thrill fans as many picture themselves as the female protagonist."
But for ordinary moviegoers, the fascination is more straightforward.
A netizen on Douban.com says: "Who cares about the loose storyline? At least in 80 percent of the scenes the lead actor is topless. It's nice to be able to admire his muscular physique."
Lykov has also been bombarded with questions in a similar vein during his promotional tour.
In response to questions from Chinese reporters, he says: "I don't think I was chosen for my body as the director wanted an actor who was not too Slavic or Russian."
Dragon is also unlike older Russian films.
For middle-aged Chinese viewers, their collective memory of Russian movies is mostly of those produced in the former Soviet Union.
With Dragon, where the sets and the beasts are created using digital technology, there is a new appreciation of films from Russia.
As for The Crew, the film only reinforces the new Chinese view that Russian films are finally entering the digital age.
The Crew, a remake of the 1980 classic Air Crew, is about a rescue on a volcanic island.
It cost 1.5 billion Russian roubles ($23 million) to make and received critical acclaim for its special effects.
While the first half of the movie seems a bit slow paced, the second half features impressive action scenes.
For instance, a daredevil pilot uses a cargo basket hanging from a rope to move passengers from another plane into his plane, as the former is running out of fuel.
Commenting on the change in Russian films showcased through the two movies, Zhou Huarong, senior director of content investment at Beijing-based firm Le Vision Pictures, says: "While Russia's film industry may lag China by 15 to 20 years ... the two movies show the development of their craft.
"In some senses, they represent the best of Russian cinema," says Zhou, who earlier paid a visit to Central Partnership, the Russian producer of The Crew.