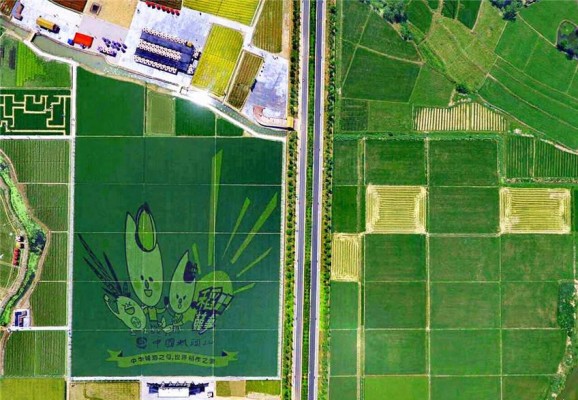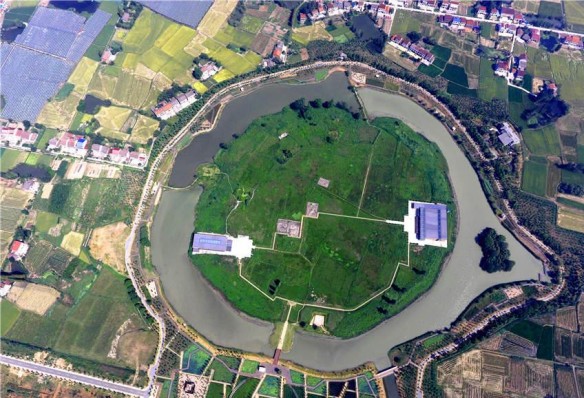 A rice-paddy artwork created by precision planting of five differently colored rice varieties attracted much attention at the opening ceremony of Chengtoushan Cross-Strait Rice Paddy Art Festival on the morning of Aug. 28, 2016. The creative murals, covering an area of 50 mu (about 3.3 ha), were displayed by Taiwan experts and locals.

The giant piece of paddy art named í░The Rice Familyí▒ consisted of four mascots symbolized the close relationship of Chinese on both sides of the Strait and Chengtoushan the cradle of rice paddy art in the world.

To make this spectacular creation, a 30-member team from Taiwan lived in Chengtoushan to have a deep understanding of rice culture before they created a series of rice-themed artworks.

Earlier this July, more than 10 Taiwan experts in rice paddy art came here to determine coordinates on the 50-mu rice fields according to a Sudoku made by traditional scribers. Then they precisely grew varieties of rice saplings with different colors at these determined coordinates. Growing with season change, plants shot up and the planned pattern began to emerge. It said that the works will last for two months and a half in the paddy fields.

í░The organizing of the rice paddy art festival is an important way to explore and demonstrate history and culture of Chengtoushan, and to boost agro-tourism,í▒ said Yang Li, vice head of the Peopleí»s Government of Lixian County, adding that the stunning paddy art helps strengthen cross-Strait exchanges.