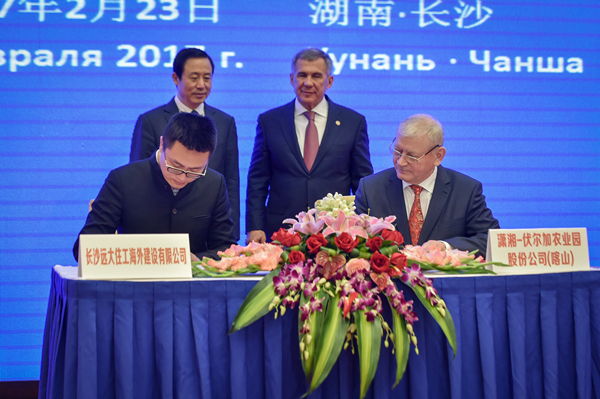 ¡¡¡¡Deputy Secretary of the CPC Hunan Provincial Committee and Governor of Hunan Province Xu Dazhe attends the Business Forum held between Hunan Province of China and Republic of Tatarstan of Russian Federation on Feb. 23, 2017. He also addresses the Forum. The photo above shows the scene of signing ceremony.
¡¡¡¡The Business Forum between Hunan Province of China and Republic of Tatarstan of Russian Federation kicked off in Changsha on the morning of Feb. 23, 2017. Deputy Secretary of the CPC Hunan Provincial Committee and Governor of Hunan Province Xu Dazhe and President of the Republic of Tatarstan of Russian Federation Rustam Minnikhanov made speeches on behalf of each side and witnessed the signing ceremony together.
¡¡¡¡Tatarstan Deputy Prime Ministers Albert A. Karimov and Marat Akhmetov, and Vice Governor and Secretary General of Hunan Province Yang Guangrong also participated in the Forum.
¡¡¡¡Governor Xu, on behalf of the CPC Hunan Provincial Committee and the People¡¯s Government of Hunan Province, warmly welcomed the guests. He believed that the Forum was an important milestone for both sides. It marks that the great progress has been made in mutual communication and an important step has been taken towards enhancing understanding and strengthening cooperation. Hunan, the hometown of the great man, Mao Zedong, boasts sound transportation location, powerful industrial basis, and plentiful tourism resources, he said. He expected that under the policies on deepening China-Russia comprehensive strategic partnership of coordination, based on the China-Russia cooperation framework of the upper and middle reaches of the Yangtze River and the federal districts along the Volga River banks, and adhering to the principle of equality and mutual benefits, the province communicates and cooperates with the counterpart in multiple fields via various channels. Future collaboration will be expected to be established in such fields as economic and trade, agriculture, science and technology, culture, education, and tourism, to achieve win-win results, he noted.
¡¡¡¡¡°Tatarstan has been working closely with representatives of Chinese business. We pay frequent visits to China with great interest and there is a lot we can learn from the country. We are interested in best practices of special economic and industrial zones of China. In our turn, we are open for cooperation and are ready to provide overall support in the implementation of joint projects,¡± President Minnikhanov introduced in his speech. ¡°We pays great attention to innovative development and are now vigorously carries out industrial park construction. Priorities have been given to the development of advanced sci-tech sectors, including nanotechnology, composite materials, and intellectual robots.¡± In his opinion, both sides have profound cooperation potentials in economic and trade, tourism, medical care, petrochemical engineering, equipment manufacturing, automobile industry, cultural education, and civil-military integration. Tatarstan sincerely welcomed the official opening of the direct flight between the two places as soon as possible, to facilitate sight-seeing, student exchange, and business contacts of both sides.
¡¡¡¡At the Forum, Hunan¡¯s Broad Homes Industrial International Co., Ltd. and Sunward Intelligent Equipment Co., Ltd. have signed framework agreements with representative enterprises of Tatarstan respectively. A strategic cooperative partnership of mutual benefits and sustainable development was co-established. And Tatarstan Investment Development Agency, Tourism Commission, and Industrial Park of Alabuga Economic Development Zone, as well as heads of the Hunan Provincial Department of Commerce and the Tourism Development Committee of Hunan Province did promotions at the Forum.