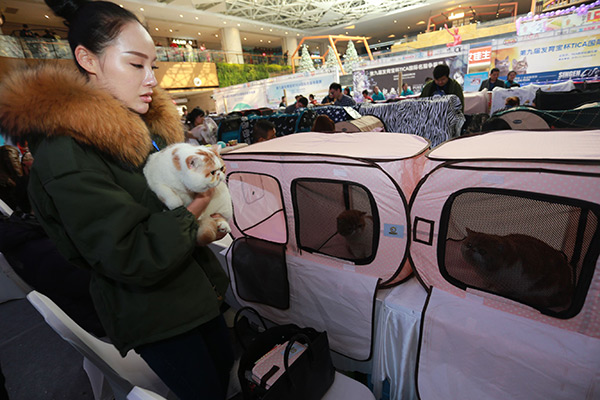 The domestic pet food market is expected to grow at an annual rate of more than 30 percent to reach 150 billion yuan ($21.84 billion) by 2020, making it the world's third-largest.
  The expectations follow a market transaction surge to 53.5 billion yuan in 2016 from 19.32 billion yuan in 2013.
  Riding this boom, Hangzhou, Zhejiang province, inaugurated the country's first cross-border pet industry experimental zone in the city's Jianggan district on Monday.
  The experimental zone will pilot reforms on the approval and regulation of cross-border pet food imports, explore the introduction of national standards for the industry and promote the exportation of domestically made products.
  To date, nearly 30 enterprises-including cross-border e-commerce sites such as Tmall, Kaola and Beibei, and related logistics and warehousing companies-have established their presence in the experimental zone, said Li Yuan, deputy head of the district.
  The zone enables one-stop services and aims to put in place open, transparent and smart pet food import channels and regulatory policies, he added.
  Huisen Pet Food Trading Co provides agency services for foreign pet food producers applying for import certificates. It also plans to engage in pet food imports in the future. The company has received many inquiries and helped several foreign companies prepare application materials since settling in the zone in December.
  "The cost of all the procedures stands at about 50,000 yuan. The time for handling applications for import certificates has shortened from one year to 180 days, and even three months in some cases," said Ni Guoping, general manager of the company.
  Currently, pet food imports mainly come from two channels, the traditional channel of general trade and overseas purchase agents, or WeChat store owners who are in a gray regulatory area, according to Xing Yue, deputy general manager of cross-border e-commerce site Tmall Global.
  The channels available to meet buoyant demand are limited and there is a need to bring the gray channels of cross-border pet food shopping into the sunlight, she said.
  At the inauguration ceremony, Tmall Global signed a strategic cooperation agreement with Jianggan district's Qiantang Smart City.