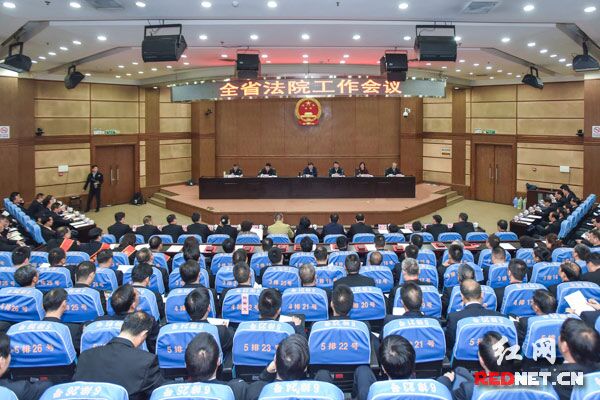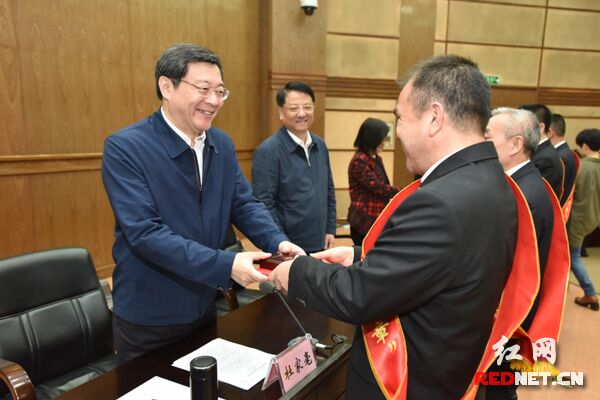 红网长沙4月6日讯(时刻新闻记者 廖洁 摄影 李长宏)今天上午,全省法院工作会议在长沙召开。湖南省委书记、省人大常委会主任杜家毫强调,要牢牢把握法院工作正确政治方向,围绕中心、服务大局,深入推进司法体制改革,肩扛公正天平、手持正义之剑,让人民群众在每一个司法案件中感受到公平正义。
  Rednet (Changsha): The meeting of the work on Hunan Provincial Courts was held in Changsha, April 6. Du Jiahao, Secretary of the CPC Hunan Provincial Committe and Director of Hunan Provincial NPC Standing Committee, stressed that the work of People's Court should be done by firmly grasping the right political direction of the court work,centering around the overall situation, with the in-depth reform of the judiciary,so that the masses can feel fair and justice in every judicial case.
  省领导黄关春、韩永文、谢建辉、胡旭晟出席,省高级人民法院院长康为民作工作报告。
  Other provincial leaders attended the meeting, including Huang Guanchun, Han Yongwen, Xie Jianhui, Hu Xusheng. Kang Weimin made the work report of Hunan provincial senior people's Court.
  过去一年,全省法院共收案62.98万件,结案61.49万件,同比分别上升了10.93%、15.33%,收、结案数再创历史新高。
  Last year, Hunan provincial Courts receive 629,800 cases,closed 614,900 cases, the increasing rates are 10.93% and 15.33% respectively, which are the new record ever since.
  Original link: 杜家毫:让司法公正的阳光普照三湘大地