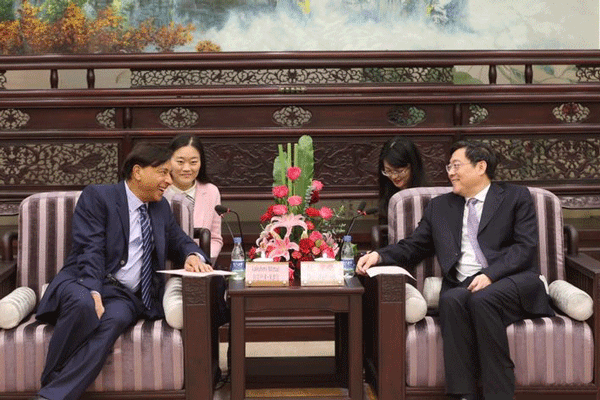 Du talked about the great achievements Valin ArcelorMittal Automotive Steel Co., Ltd. (VAMA) has made in its automotive flat steel project since the official operation in 2014. He believed it has become a demonstration project of Hunan's supply-side structural reform, thanks to the VAMA's advanced production techniques and automotive flat steel products.
  Meanwhile, a large number of well-known domestic and foreign automobile manufacturers such as FIAT, Chrysler, Mitsubishi, Volkswagen, SAIC Motor, BAIC Motor, GAC Group, Geely, and BYD, have settled in or expanded production capacity in Hunan. The provincial automobile industrial chain integrated with vehicle and key parts manufacturing, and automotive flat steel production will be greatly improved. Hunan was expected to achieve an annual production target of two million vehicles in two or three years, which will offer huge potential market and promising future for VAMA's advancement.
  Du expected both sides to further expand VAMA's influence and market share, and jointly build Valin Group into the most excellent steel company in central China, so as to assist Hunan's automobile manufacturing industrial progress.
  Lakshmi Mittal thanked the CPC Hunan Provincial Committee and the People's Government of Hunan Province for their long-term support to VAMA. He remarked that as the world's largest automotive flat steel supplier, ArcelorMittal will introduce the most advanced technology and the latest products to VAMA. We will better grasp the opportunities brought in by the booming Hunan automobile industry, to accelerate making VAMA a leader in automobile industry and contribute more to the supply-side structural reform and sustainable development of Hunan steel industry, he added.