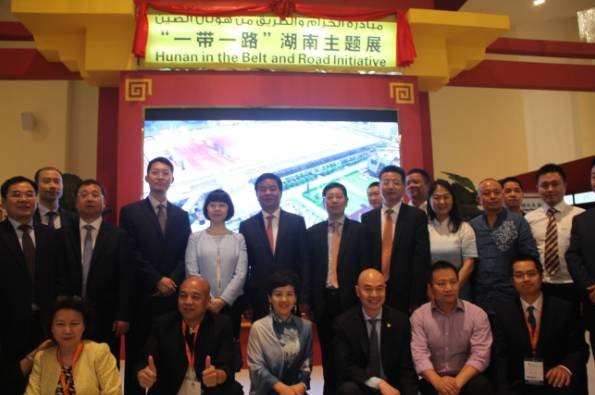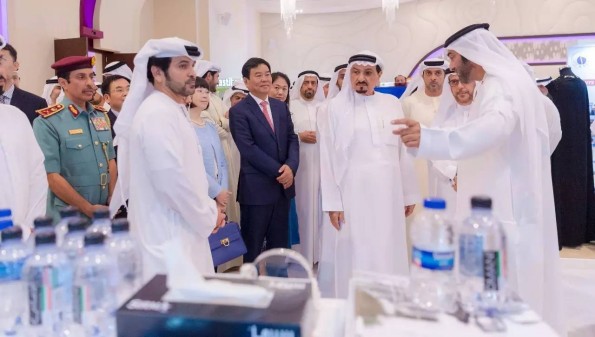 China and Ajman expected to take this opportunity to further enhance substantive economic and trade cooperation for win-win results.
  Ruler of Ajman Mr. Sheikh Humaid bin Rashid Al Nuaimi announced the inauguration of the exhibition and toured around the booths of Hunan enterprises.
  He met with Hunan Vice Governor He Baoxiang, and Consul-general of China in Dubai Mrs. Li Lingbing, and discussed with them about Ajman-Hunan economic cooperation and related projects.
  He spoke highly of Hunan Bosen Industrial Group's management of the Ajman China Mall, which greatly benefited local economic and trade development. He welcomed more Hunan enterprises to start up business in Ajman.
  Vice Governor He said that, this exhibition aimed to take the opportunities that the "Belt and Road" Initiative brings to promote Hunan products to the market in Middle East. This was the first Hunan product fair held in the Middle East. It would display Hunan's competitive industries, and leading enterprises and products, in order to boost imports and exports between Hunan and Middle Eastern countries. After the exhibition's closing, all products will be moved to the Hunan Pavilion in Ajman China Mall for long-term display.
  Under the witness of Chinese Consul-general and Ajman ruler, the Hunan Department of Commerce and Ajman Ministry of Industry and Commerce entered into an economic, trade, and technological cooperation agreement.
  Background information:
  Ajman China Mall is also called Chinese Merchandise Procurement Center in the M.E., located in Ajman, UAE. As the trade center and the transfer station in Arab world, UAE is the third transit center after Singapore and Hong Kong, and its trade has an influence on Europe, Asia and Africa. With the sea, land and air transportation, major cities in the globe can be reached from UAE within eight hours. In addition, it is one of the most important aviation hubs, and the largest airport around the world. Ajman China Mall is the second Chinese merchandise wholesale distribution center, which occupies a strategic trading position among Europe, Asia and Africa, influencing 1,500 million populations of more than 50 countries. (Source: www.ajmanchinamall.com )
  Chinese source: world.people.com.cn
  Photo source: xindubai.com