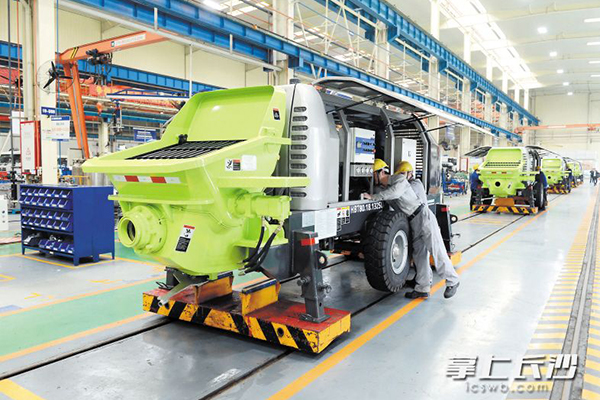 中联重科在白俄罗斯的中白工业园,已于今年4月正式开工建设,投产后年销售收入将达3亿美元。图为繁忙的中联重科生产车间。 资料图片
  The construction of Sino-Belarus Industrial Park invested by Zoomlion officially starts since April this year in Belarus; the sales revenue of Industrial Park will reach 300 million dollars. The photo shows the busy production lines of Zoomlion.
  2013年下半年,我国提出"一带一路"合作共赢的倡议,3年多来,沿着古老的"丝绸之路",中国与沿线国家加强合作与贸易往来。长沙和国内其他地区一起积极参与"一带一路"建设,寻找优势产业,掘金"一带一路",初见成效。
  In the second half of 2013, China proposed "Belt and Road" initiative for the win-winning international cooperation. For the later 3 years, China and the countries along the ancient "Silk Road" have kept strengthening cooperation and trade. Changsha and other parts of the country actively participated in the initiative for advantageous industries with the initial success.
  全球最大机场沙特吉达国际机场、阿尔及利亚国内最长高速公路、非洲最大电厂南非Kusile发电站……在"一带一路"各国的基建现场,见到"湘字号"三一重工的工程机械设备已不足为奇。据该公司日前出炉的2016年年报显示,公司去年实现国际销售收入92.86亿元,其中70%来自于"一带一路"沿线国家和地区。据统计,从2014年至2016年底,长沙分布在"一带一路"区域的对外投资项目达到84个,占同期全市对外投资项目总数的一半以上。
  Industrial bussiness such as Sany construction machinery can be seen anywhere in Jeddah International Airport the world's largest airport, Algeria's longest highway, Africa's largest power plant, Kusile power station in South Africa, etc.. According to Sany's 2016 annual report, it achieved 9.286 billion RMB of international sales revenue last year, 70% of which from the countries and regions along " Belt and Road" . According to statistics, from 2014 to the end of 2016, Changsha invested 84 projects for Belt and Road, which is more than half of the total investment of the same period of time.
  Original link: 长沙3年在"一带一路"区域投资项目达84个