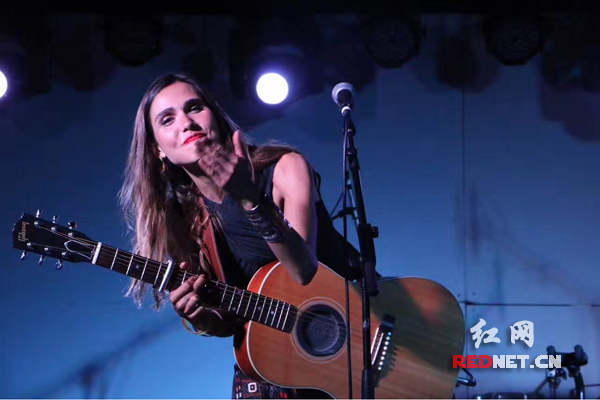 Rednet (Changsha):Joyce Jonathan, a 27-year-old French singer, performed her original songs in"Spring of Chinese and French Culture" the activity held in Hunan Province, May 24. Honored with NRJ the highest Music Award in France, Joyce Jonathan is quite famous, and her video of performing has over 60 million hits online.
  This is her first time to come to Changsha City, Hunan Province.Jonathan expressed her keen for China due to her frequent visiting to China starting at the age of 11, with her mother who ran a travel agency between China and Frence and her father an architect graduated from Tsinghua University, Beijing.
  "I was so impressed that China is so big, when I first came to China at eleven. I brought my first scooter in Sanlitun, near Beijing." In Joyce Jonathan's eyes, China is a very attractive country and it becomes more internationalized for anyone."
  The experience of childhood has brought the great influence on Joyce Jonathan's creation. She issued three albums with Chinese versions.
  "It's the second time that I have been invited to the activity. This activity is very meaningful that many French artists can feel the charm of different cities and cultures. It creates opportunities for cultural exchanging and communication," said Joyce Jonathan. She said, "I heard that crawfish and pedicure in Changsha are very famous, I'd like to try if I have the chance."