Hot and spicy crayfish is the most favorite classic snacks on Changsha people's tables for its hot taste, smooth texture and bright color, specially at summer nights. The spicy and delicious snack is an invention of Changsha people, and now spread national wide being one of hottest dish in people's hearts.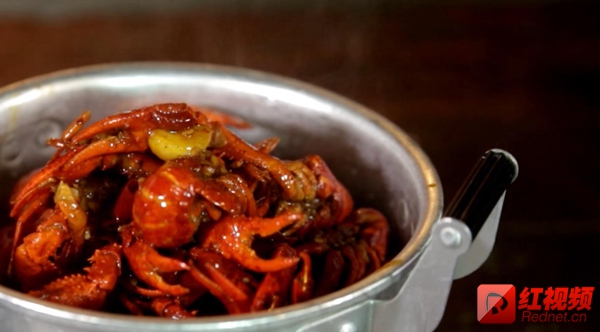 Wu Taijiang, a Cantonese chef in Wenheyou Changsha Crayfish Restaurant, first tasted hot and spicy crayfish in 2004, when he came to Hunan with his wife. He said that Hunan cuisines taste much more spicy and salty than Cantonese cuisines.
As a meticulous and patient chef, Wu Taijiang thinks that dish may suit to anyone , if it is cooked with many procedures and flavors. In his eyes, the snack is hot and spicy as Hunan girls.
Original link: 长沙口味虾:令吃货们欲罢不能的香辣 就像烟花在舌尖绽放
  口味虾又叫麻辣小龙虾,口味辣鲜香,色泽红亮,质地滑嫩,是长沙人夜宵桌上不可或缺的经典小食。因为香辣可口,已经从长沙发散到了全国,成为人们心中的美食一点红。
  吴泰江是"文和友老长沙龙虾馆"的口味虾烹饪师,他是广东人,也是一名湖南女婿。2004年,他随妻子一起来到湖南,吃的第一道湖南菜就是口味虾。他说,和广东菜相比,湖南菜的特色就是口味较重,吃得过瘾。
  吴泰江是一个温和细致又有耐心的人,在工作中一直秉持着"众口能调"的原则。口味虾的制作和烹饪工序都很繁琐,但他总是能悉心完成。而红红火火的口味虾,在他眼里,就像湖南妹子的个性:"火辣辣"的,充满着热量和激情。