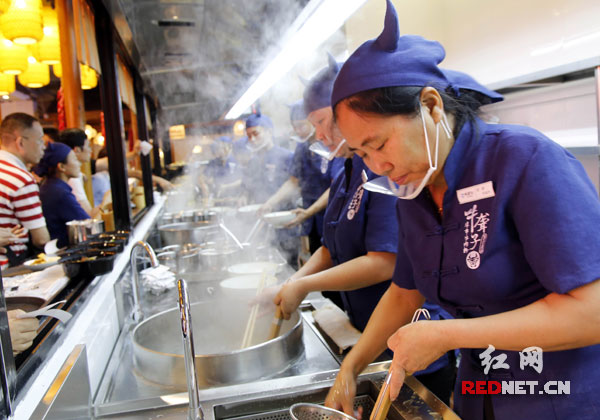 Beef rice noodles created annual GDP of 200 mln RMB. Many flour mills and restaurants for rice noodles leave from Jingshi City to Wuhan City and Changsha City. Recently, a big restaurant for Jinshi beef rice noodles is opened in Changsha, with the total investment of 300 million yuan, covering an area of 680 square meters. It is going to be "Five-star" rice noodle restaurant.
  "Jinshi beef rice noodle" is granted as "National Geographical Brand" by State Administration of Industry and Commerce. It is one of the most famous snacks of Hunan Province. As a local specialty, it is the most preferred Hunan breakfast, dating back to Emperor Yongzheng period of Qing Dynasty.
  Jinshi City has three rice-noodle mills and more than 200 restaurants, which manufacture and sell rice noodles 30,000 pounds every day. In average, if 40,000 bowls of beef rice noodles are sold everyday and 7 Yuan for each bowl, there are 280,000 yuan income every day.
  If you calculate the income for 360 day, more than 200 restaurants in the city may have the total income of 100.8 million yuan one year, and the business will promote 2 billion yuan of GDP for related supporting industries.
  Original link: 津市牛肉粉每年创GDP达2亿 长沙打造第一家"五星"粉馆