Changsha became sister cities with the Belarusian city of Mogilev on June 30, strengthening ties between the two and furthering prospects of greater exchanges and cooperation.
  Earlier in April, Du Jiahao, CPC Hunan Provincial Committee Secretary, visited Belarus and agreed a deal with his counterparts on Hunan and Mogilev Region cooperation.
  A Changsha delegation led by Xu Hongyuan, CPC Municipal Committee Deputy Secretary of Changsha, paid a three-day visit to Mogilev from June 30 to July 2, to organize the Changsha-Mogilev Friendly Exchange and Economic and Trade Cooperation Conference, as well as attend Mogilev's 750th founding anniversary celebrations.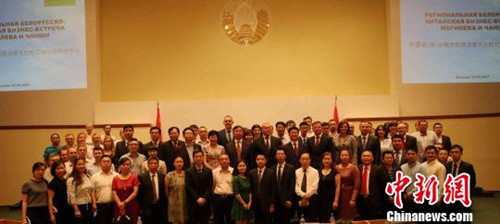 Meanwhile, Xu and Vladimir Tsumarev, vice governor of Mogilev, signed a Letter of Intent for establishing a friendly-city relationship, and an economic and trade cooperation agreement on behalf of the two cities.
  At the conference, the opening of the Changsha Commercial Representative Office in Belarus was announced.
  Cui Qiming, Chinese Ambassador to Belarus, praised the increasingly stronger ties between China and Belarus.
  "The Changsha-Mogilev Friendly Exchange and Economic and Trade Cooperation Conference is a new threshold for bilateral cooperation," Cui said. "I highly expect that the two sides will boost further cooperation through strategic cooperation and complementary development."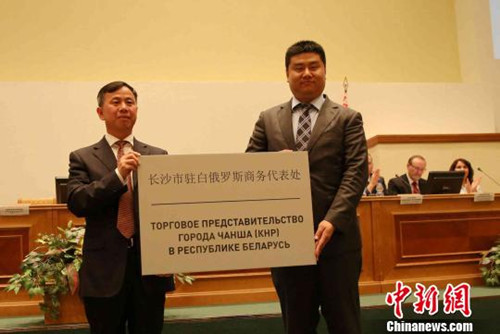 Xu also spoke highly of the positive role the Belt and Road Initiative has played in the Changsha-Mogilev relationship.
  "Changsha is one of the important strategic bases along the Belt and Road, and is on route to become one of China's central powers."
  "Mogilev is a Belarusian industrial center with an advanced transportation network. Both cities stand to benefit from the cooperation," Xu said.
  The delegation also visited the Mogilev Free Trade Zone, and some representative companies during its visit.