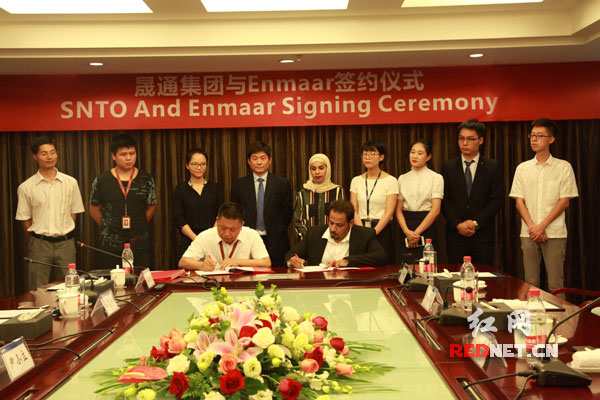 8月22日,湖南晟通科技集团有限公司与沙特阿拉伯Emaar公司举行战略合作签约仪式。此次签约,预示着中国铝模在进入中东市场上迈出了坚实的一步,将全面助力沙特建筑行业进入转型升级新时代。
  On August 22, 2017, Hunan Suntown Technology Group Cooperation Limited of China (hereinafter referred as SNTO) signed a ten-year strategic cooperation contract with Emaar Properties from Saudi Arabia to fully promote the transformation and upgrading of construction industry in Saudi Arabia. This indicates Chinese aluminum formwork substantially entering into the Mideast market.
  "我们这次签订的10年战略合作项目,并有望在5年内合作完成5000余套住宅建设,希望能让双方强强联合,实现战略共赢,同时携手致力于改善我们国家人民的居住环境,增强幸福感。"Emaar公司总裁Musaeed先生在签约仪式上表示。
  " The signing of this ten-year strategic cooperation contract between us expects to build more than 5000 residential buildings within 5 years in Saudi Arabia to improve living condition of our citizens and to increase their happiness through our powerful alliance and win-win cooperation." said by Mr. Musaeed, President of Emaar Properties on the contract signing ceremony.
  近年来,沙特政府为改善民生居住条件,大力推进城市住宅等基础设施建设工作。由于传统的木模板导致建筑品质差、施工效率低、工程质量安全差等,且对木材的大量使用,导致森林过度砍伐、建筑垃圾重度污染,生态环境严重破坏。
  For the past few years, the Saudi Arabia government has vigorously promoted infrastructure construction such as urban housing project to improve the living condition of citizens. However, traditional wooden formwork cannot satisfy their dreams for poor quality and low efficiency, and the abusive use of wooden materials has led to heavy deforestation, quantities of construction wastes and severe damage of environment.
  晟通铝模板正是顺应这种趋势的一种新型建筑节能环保材料,可广泛应用于钢筋混凝土建筑结构的各个领域,相比于传统的木模板,铝合金模板具有施工周期短、强度大、重复利用率高、工程质量好等显著特点,是新形式下建筑模板的首选产品。
  SNTO's aluminum formwork just perfectly fill gaps of such construction needs in Saudi Arabia, which can widely used in reinforced concrete buildings. Compared with traditional wooden formwork, aluminum formwork has advantages such as short operation time, high strength, high-rate reuse and good quality. No doubt that, aluminum formwork is the first choice for construction needs.
  "我们的铝合金模板采用高强度航空材料,由工厂模块化设计、标准化生产,通过产业化工人现场拼装,在混凝土浇筑成型后将模板拆除即可。整套模板系统可一次性完成墙、柱、梁、板、阳台、飘窗、外装饰线条等混凝土结构的施工。"晟通集团好快省建筑科技有限公司总经理尹小立介绍。
  "Our aluminum formwork adopts aviation materials with high strength, modular design and standard production. It can be easily removed after concrete pouring and forming. The whole set of formwork can complete the construction of concrete structure at one time such as wall, pillar, beam, panel, balcony, bay window and decoration lines of outer walls." said by Mr. Yin Xiaoli, Manager Director of Hunan HKS Construction Technology Company Limited of SNTO.
  作为中国500强企业、中国铝行业前五强企业,晟通集团一直致力于拓展铝精深加工应用领域,并进军铝模板工程。晟通集团已拥有全国规模最大的智能化铝模板生产基地,晟通铝模项目更是在全国30余个省市地区遍地开花,并在新加坡和孟加拉国拥有成功合作案例。
  As China Top 500 enterprises and China Top 5 enterprise in aluminum industry, SNTO now occupies the largest scale of intelligent aluminum formwork manufacturing base in China. The aluminum formwork of SNTO has been widely used in more than 30 Chinese cities and regions, and has achieved successful cooperation with customers in Singapore and Bangladesh.
  据悉,此次并不是晟通产品首次进入沙特市场,早在2014年,晟通集团就以过硬的产品品质及精湛的制造工艺,成功与阿美石油公司签订战略合作,首批30台轻量化铝合金油罐车驰骋在沙特境内,并获得了对方和市场的一致肯定与好评,使晟通轻量化产品在中东市场上迈出了坚实一步。
  It is said that this is not the first time for SNTO to enter into the Saudi Arabian Market. Back to 2014, SNTO successfully signed the strategic cooperation contract with Saudi Aramco for its super quality and fine process. The first 30 sets of light-weight aluminum oil tankers are now operating in good conditions within Saudi Arabia, highly praised by Saudi Aramco and well-received on the local market. This proves that light-weight SNTO products have moved steadily in the Mideast market.
  "通过前期的合作,以及此次与沙特企业的战略合作,我们正在抓紧筹划在沙特投资建厂,生产制造销售建筑铝模板、全铝轻量化油罐车、包装用铝箔和交通用铝型材等终端化产品,进一步扩宽海外市场。"晟通集团相关负责人在签约后透露。
  "Based on previous and present strategic cooperation with enterprises in Saudi Arabia, we are now planning to invest and set up manufacturing sites in Saudi Arabia to promote our products such as aluminum formwork, light weight oil tanker, aluminum foil for packaging, as well as extrusion profile, so as to broaden our overseas market." said by representatives of SNTO after the signing ceremony.
  Author of this report: Maggie Chen (陈美淇), a news journalist of Rednet.cn.