Changsha residents were treated to an agricultural display at the innovation street of Xunlong River Eco Art Town, Changsha county, on Aug 19.
  The display dazzled visitors with a glittering array of handicrafts and agricultural products, such as ceramics, honey, root carvings and sugar painting.
  It provided a platform for visitors to experience authentic local culture, customs and featured agriculture.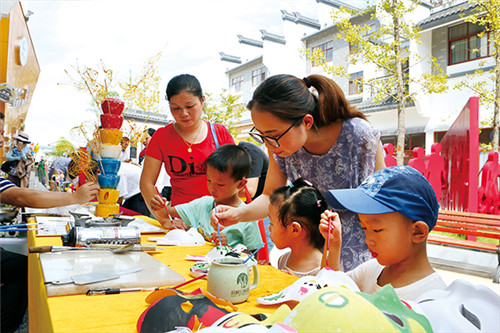 "By scanning the QR code, you can find out extra information about how and where the agricultural products are grown," said Zhang Dong, an attendee on his second visit to the town.
  In addition, 24-hour vending machines and self-service payment allow buyers to get even easier access to the products.
  Visitors were also able to gain an insight into traditional wedding customs in Central China's Hunan province at the Marriage Culture Museum where jubilant scenes were being reproduced.
  "The maker culture represented by agricultural innovation has grown to be an engine driving tourism development in the whole of the Xunlong River area as well as being a good solution for poverty relief," said an official of the management committee of Changsha county modern agriculture innovation demonstration area.
  Only half-an-hour's drive from downtown Changsha, the innovation street provides an opportunity for people to experience poetic rural life.
  It will play an important role in promoting the town's unique culture and ecological environment, as well as boosting Changsha county to build as a national comprehensive demonstration area, local media reported.