The Hunan government has made cleaning up the Xiangjiang River a priority.
  A focus of this environmental campaign is the Qingshuitang industrial zone in Zhuzhou, an industrial hub on the lower reaches of the river in the province, which is home to 261 enterprises, most of them in heavy industries.
  In particular, its 15-square-kilometer core area, where there is a concentration of metallurgical, chemical and construction material companies, is to be rehabilitated.
  At the peak of its development, local companies generated 25.6 billion yuan ($3.83 billion) in combined annual production value.
  Yet their laurels are now in the past, and partly due to outdated facilities and technologies, the zone is a prominent source of pollution.
  Rehabilitation of the old industrial zone is the key to fulfilling the Hunan government's major project - protecting and improving the Xiangjiang River basin.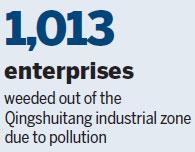 By the end of 2018, all the plants in the industrial zone will be closed, Liu said - a guarantee for the cleanup of the Xiangjiang River basin.
  The provincial government released an environmental regulation to help protect the Xiangjiang River in 2012, China's first comprehensive local regulation on protecting river basins.
  The province has made marked progress in its environmental protection and improvement thanks to the implementation of two three-year action plans, from 2013 to 2018.
  Wang Yi'ou, head of Hunan's environmental protection department, said the first plan from 2013 to 2015 closed and weeded out 1,013 enterprises that were the source of heavy metal pollution.
  According to a representative from the Changsha environmental protection bureau, no chemical, paper making or tanning projects have been approved within 20 kilometers of the Xiangjiang River in recent years.