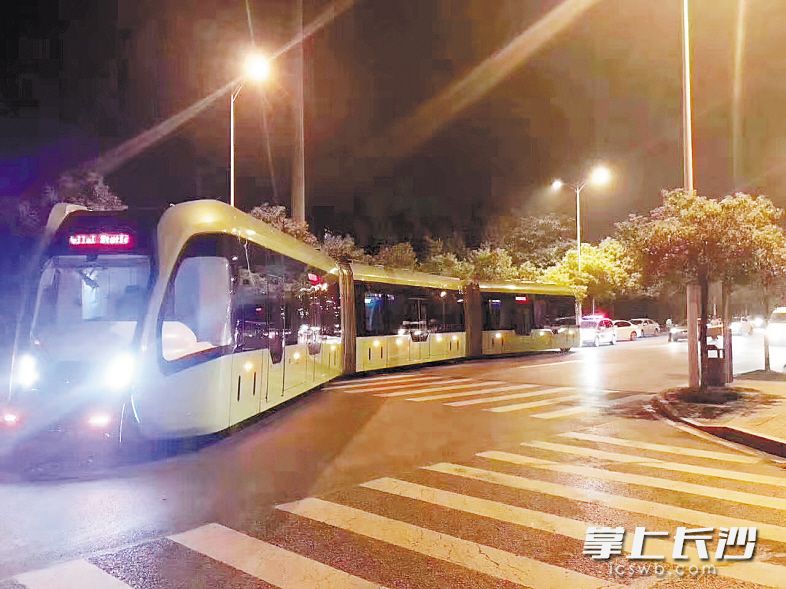 Autonomous rail rapid transit (ART) train in over 30 meters long, is under debugging. (Photo/Zou Lin, journalist of Changsha Evening News)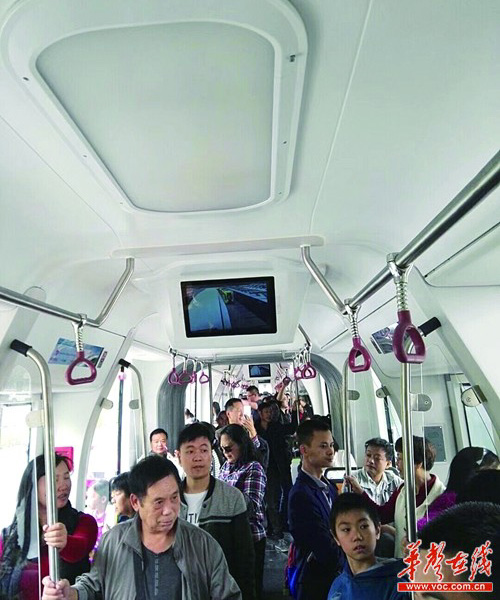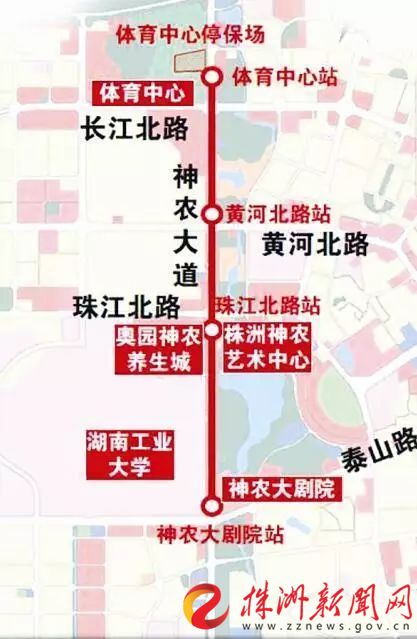 ART demonstrated line Phase I diagram (Photo/Hu Le of Zhuzhou Daily)
  据红网综合消息,全球首条虚拟轨道列车示范线于10月23日正式开通,并将在2017中国(湖南)国际轨道交通产业博览会暨高峰论坛期间展出,预计明年上半年正式载客运行,届时市民可凭身份证免费乘坐。
  According to Rednet news report, the world's first railless ART demonstrated line is formally opened on October 23, 2017, and will be displayed during 2017 China (Hunan) International Rail Transit Expo & Summit Forum during October 24-27. ART train is expected to put into operation in the first half year of 2018, when citizens can take the train free of charge with their ID cards.
  智能轨道快运系统由中车株洲电力机车研究所有限公司首创,是一种采用虚拟轨迹跟随、高效电传动技术的全新轨道交通运输系统。其所用虚拟轨道列车整车采用储能电池充电,在首站和末站建设充电站。该示范线安装特种变压器,单次充电10分钟可保障满载行驶25公里。
  Autonomous Rail Rapid Transit (ART) is a railless system for urban passenger transport, similar to other guided busways. Developed by CRRC Zhuzhou Institute Co Ltd, it was unveiled in Zhuzhou in Hunanprovince on 2 June 2017.The ART train, electrically charged for 10 minutes at a time, can drive 25 kilometers away with full capacity of passengers.
  线路规划全长约6.5公里,建成以后将与已经规划的中低速磁悬浮线路实现无缝对接,有效解决城市交通的拥堵问题。由于采用高铁柔性编组的模式,智轨列车还能根据客流变化调节运力,比如采用标准的3节编组时,智轨列车最大载客307人,5节编组时可载客超过500人,能有效解决普通公交车载客量小的缺陷,大大提高运力。
  A 6.5 km (4 miles) long ART line will be built through downtown Zhuzhou and will be inaugurated in 2018 to realize direct connection with the medium-low speed maglev lineunder plan. The ART train with three carriages can carry up to 300 passengers. A five-carriage train provides space for 500 passengers.This means that, the ART train can more efficiently increase passenger capacity than ordinary buses.
  Further Link: About Autonomous Rail Rapid Transit
  Chinese source: 全球首条虚拟轨道列车示范线23日起在湘运行