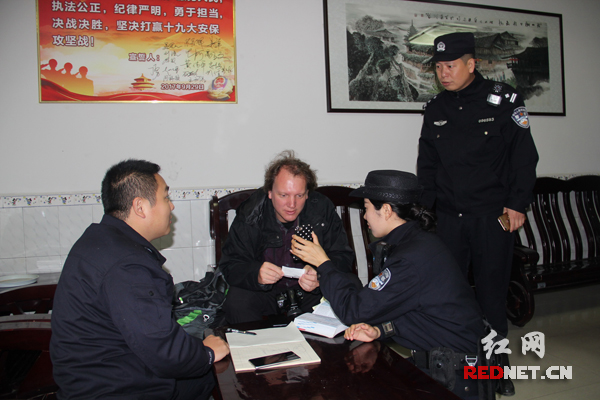 红网时刻10月21日讯(通讯员 刘亚平 陈亚星)10月20日,一名"老外"坐错了车,竟然把湖南的靖州当成了湖北荆州。怀化铁路公安处靖州火车站派出所民警热情相助,立即开汽车将外籍旅客送到怀化高铁站,使其乘上了前往目的地的列车。
  Rednet (Jingzhou): A foreign tourist unexpectedly arrived at in Jingzhou by train in Hunan Province, by mistakenly taking Jingzhou of Hunan Province(湖南靖州,pinyin: jìng zhōu) as Jingzhou of Hubei Province (湖北荆州,pinyin: jīng zhōu). Jingzhou railway station police of Huaihua Railway Public Security Department helped him by taking him to Huaihua station of High Speed Rail for the right destination,October 20.
  当天上午11时许,由重庆北开深圳西的K835次列车到达靖州站后,从车上下来一位满头金发的外籍旅客,在站台上一脸迷惘地徘徊。正在站台值勤的民警丁勇见状,立即上前询问情况。由于语言不通,民警只好将这名外籍旅客带到派出所,让精通外语的女民警小周与其沟通。经了解,该旅客名叫菲利普,男,39岁,德国人。从重庆准备到湖北荆州旅游,由于发音不准,在购买车票时错把荆州念成了靖州,买了一张重庆到湖南靖州的火车票。
  Around 11 o'clock in the morning of October 20, a blond foreign tourist seemed confused after getting off from the train of Chongqing-Shenzhen K835 at Jingzhou station. Ding Yong, a policeman on duty, asked him about where he was heading for. Philip, a 39-year-old German, bought a train ticket from Chongqing City of Sichuan province to Jingzhou of Hunan Province due to his wrong pronunciation. With Ding and other policemen's help, he was taken to the nearby High Speed Rail station for his proper destination to Hubei Province, and he said that Chinese policemen are nice and great.
Link: "老外"坐错车误把靖州当荆州 怀化铁警及时相助
Tips:
  tone language
  n.
  (Linguistics) a language, such as Chinese or certain African languages, in which differences in tone may make differences in meaning