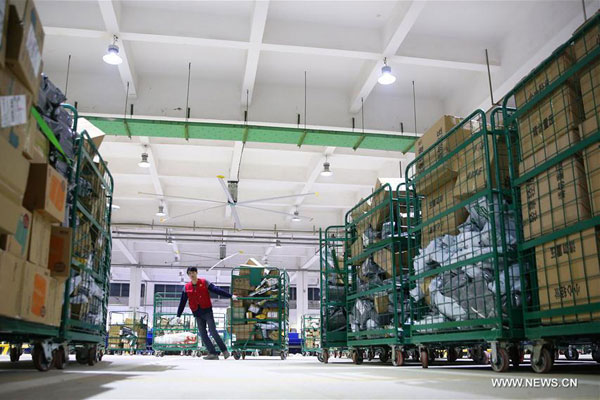 An employee works at a distribution center of Express Mail Service in Hengyang city, Central China's Hunan province, Nov 12, 2017. Courier companies were running at full speed to deliver massive number of parcels after Alibaba Group's 11.11 Singles Day global online shopping spree on Nov 11. [Photo/Xinhua]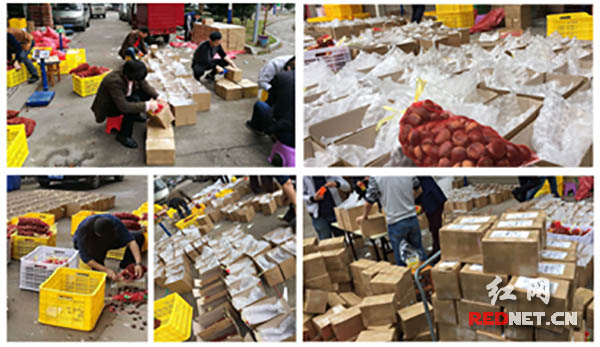 Workers are busy packaging in the warehouse of Hunan online agricultural product platform Sounongfang to ensure goods delivered within 48 hours.
  在刚刚过去的"双十一"电商购物狂欢节,阿里+京东交易额高达2953亿元,其中阿里1682亿元,京东1271亿元,双双刷新记录。湖南网友"贡献"了多少呢?根据阿里巴巴官方昨日发布的各省数据,湖南网民11日天猫拍下订单59.96亿元,比去年增长43%,排在全国第十一位。而京东方面,湖南累计消费金额在全国排名第十三,消费金额同比增长迅速,增速居全国第五。湖南网民最爱买的东西是手机、毛呢外套和羽绒服。
  According to Alibaba's big data report on double 11 online shopping day, as of 00:00 on November 12, Hunan consumers attributed 5996 million yuan to its total trading volume of 168.2 billion yuan, ranking No. 11 of China. Mobile phones, woolen coats and down garment rank top 3 on the list of Hunan consumption on Double 11 online shopping festival. Meanwhile, Hunan consumers ranked No. 13 among consumption volume on JD.com's total 127.1 billion yuan.
  除了买买买,这个"双十一"湖南人卖得也很嗨。数据显示,省外消费者在湖南电商企业消费15.81亿元,购买最多的湖南电商企业商品前5名分别为纸尿裤、面膜、医疗器械、保健食品、床品套件。
  Besides, Hunan sales received a big hit on that day. It was reported that, consumers of outside Hunan province consumed 1581 billion yuan on Hunan e-commerce enterprises, and their top 5 favorite products include paper diaper, facial mask, medical devices, health food and bedding suites.