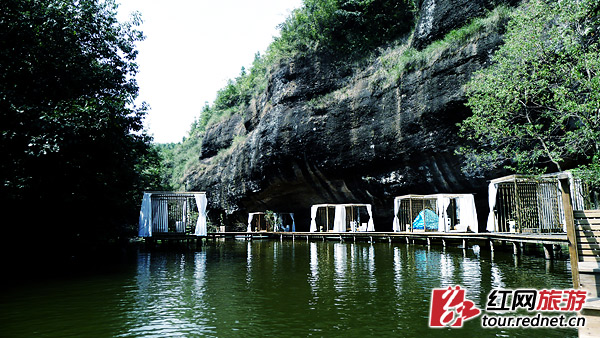 Outdoor camping toilets of Pingjiang Rustic Luxury Resort Hotel, Yueyang. (All photos here by Tang Zhijian)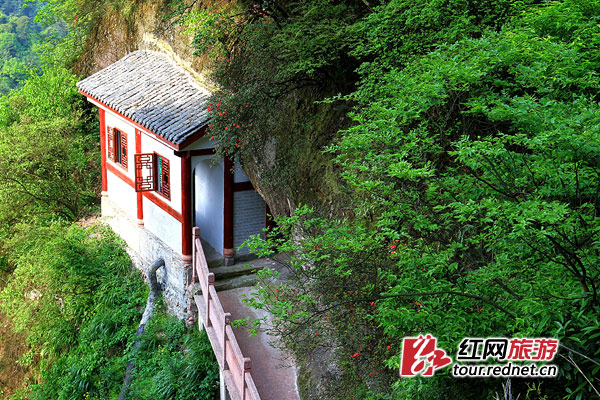 Toilets on the cliff in Langshan Scenic Area, Shaoyang.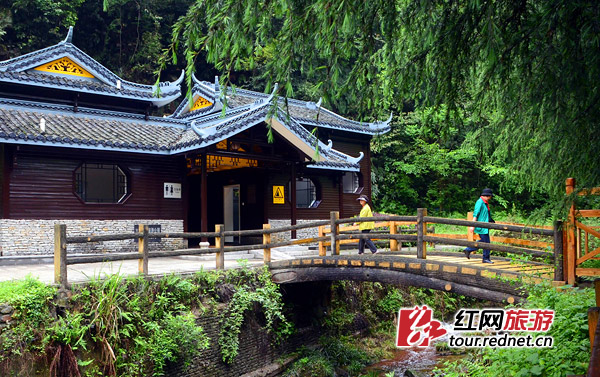 Toilets in Wulingyuan Scenic Area, Zhangjiajie.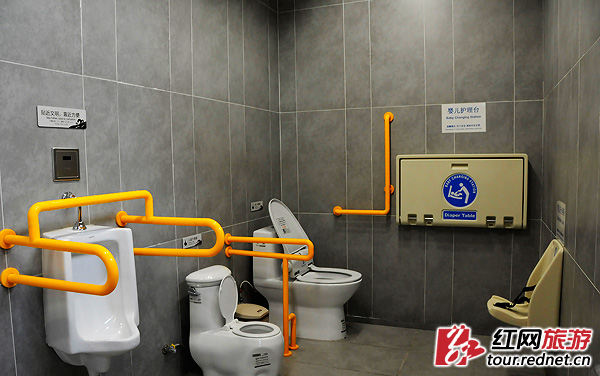 The Third Public Toilet inOrange Isle (Juzizhou) Scenic Area, Changsha.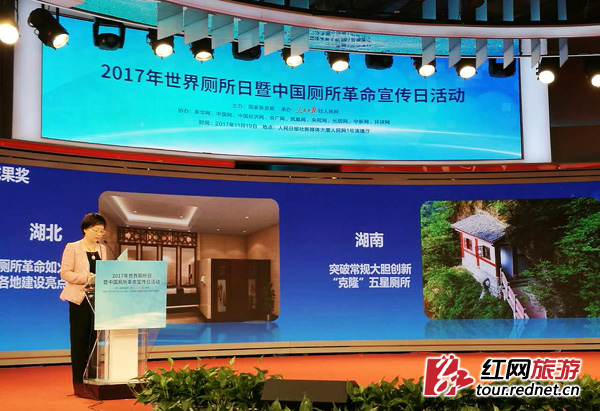 On World Toilet Day of November 19, Hunan was awarded Prominent Achievement in Toilet Revolution by China National Tourism Administration. Hunan tourism toilet building and management has led the development of "Toilet Revolution" campaign across China.
  截至2017年10月底,湖南这三年实际已经建成3169座厕所,超计划多建144座厕所,完工率占计划的104.76%,预计到2017年年底,还将完成200座。
  As of late October 2017, Hunan has already constructed 3,169 toilets for recent three years, building 144 more toilets than the plan. At the end of 2017, it is estimated to complete 200 more toilets.
  今年,湖南扎实地推进了第三卫生间的建设,确保5A景区第三卫生间全覆盖,鼓励高等级旅游景区、旅游集散中心等建设第三卫生间,截至2017年10月底,湖南省第三卫生间已完工104座,在建52座,游客们在橘子洲、花明楼、岳麓山、武陵源、天门山、东江湖等景区,都可以看到这些颇具人文关怀的"第三卫生间"。
  Hunan has advanced the construction of the third public toilets (humanized toilets) in 2017. As of the late October 2017, Hunan has completed 104 humanized toilets, and has been building 52 toilets. Tourists can use these humanized toilets in Orange Isle (Juzizhou), Huaminglou, Yuelu Moutain, Wulingyuan, Tianmen Mountain, Dongjiang Lake scenic areas, etc.
  除了景区外,"旅游厕所"的边界也在不断向景区外、向乡村延伸,截至目前,湖南全省共新(改)建乡村旅游厕所1200座左右,这是十九大报告中所提及的乡村振兴战略的具体实践。
  Apart from scenic areas, "toilet revolution" campaign has continuously extended to the countryside. So far, there have been about 1,200 rural tourism toilets constructed and renovated in Hunan province. This also specifically practices the rural revitalization strategy mentioned in the report of the 19thCPC National Congress.
  红网记者从湖南省旅发委获悉,目前,湖南省"新三年厕所革命"行动计划已经起草完毕,正在进行修订中。
  It is reported by Rednet news journalist that, Hunan has drafted the new three-year (2018-2020) plan for "toilet revolution", which is under amendment now.
  Chinese Source:湖南"厕所革命"走在全国前列 新三年计划起草完毕