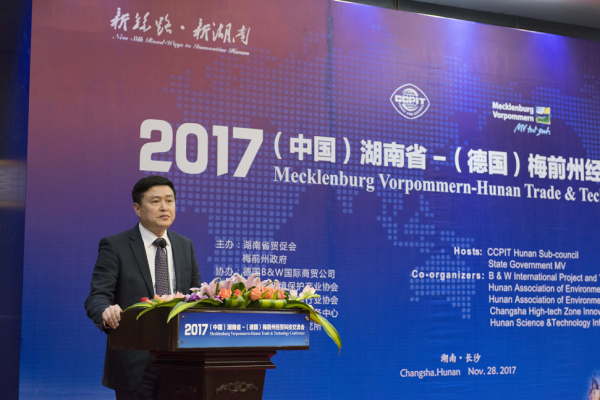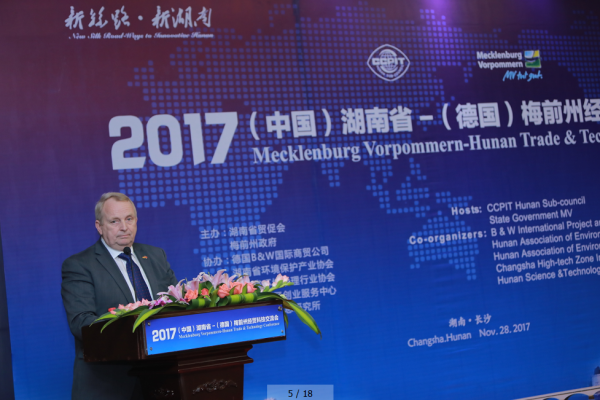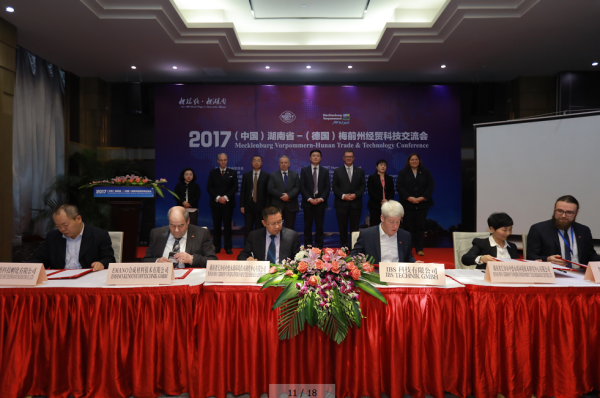 With comprehensive implementation of the German government's Industry 4.0 strategy and the national "Made in China 2025" strategy, the two sides have enjoyed important cooperation opportunities and potentials in such areas as smart manufacturing, engineering machinery, and rail transit.
  The conference aimed to further deepen economic and trade cooperation between Hunan and Germany, especially Mecklenburg-Vorpommern, to facilitate mutual enterprise cooperation in the fields of food, biotechnology, and environmental protection technology.
  Dr. Till Backhaus, minister for Agriculture, Environment, and Consumer Protection of Mecklenburg-Vorpommern, introduced the basic situation of the Mecklenburg-Vorpommern state. Located in the populous Hamburg-Berlin region, Mecklenburg-Vorpommern is an important logistics center in northern Germany, with new energy, offshore wind power, and food industry as pillar industries.
  Seven cooperation agreements were signed at the conference. Hunan Sino-German Science and Technology Incubator Co., Ltd. signed cooperation agreements with Emano Kunststofftechnik, Classic Conditorei &Cafe R tgen, and Allergo Natur Deutschland respectively.
  Hunan (Changsha) Sino-German Yongjing Environmental Technology Research Center signed cooperation agreements with ME-LE Biogas, IBS Technik, and GreenLife.
  China Council for the Promotion of International Trade (CCPIT) Hunan Branch signed a tripartite agreement with Hunan Sino-German Science and Technology Incubator Co., Ltd., Allergo Natur Deutschland, and ALLERGO International Association.
  The conference was jointly sponsored by the CCPIT Hunan Branch and the Mecklenburg-Vorpommern Government. About 150 personages from the Mecklenburg-Vorpommern Premier's General Office, the Chamber of Industry and Commerce Schwerin, related Hunan departments, and Germany and Hunan enterprise representatives attended.