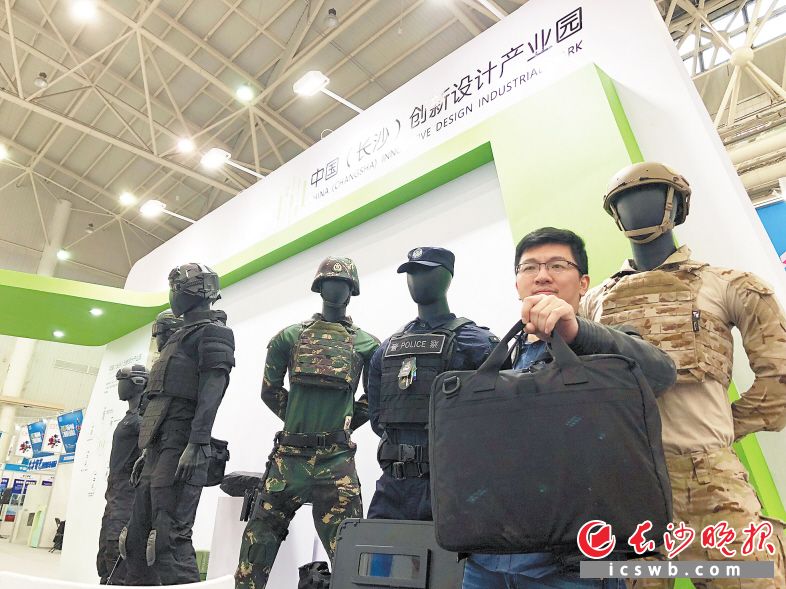 一个看似普通的电脑包,打开拉链抖一抖,秒变谍战大片里常见的精英特工们的贴身防弹衣;国产未来概念皮卡车外形科幻,拥有全天候不充气轮胎、超强射灯和各种户外器材……这些由湖南设计师精心创造的炫酷"神器",首秀全国工业设计大展!12月1日下午,首届中国工业设计展览会在武汉国际博览中心开幕,"设计湘军"首次在全国大展上集中亮相,其中湖南首家工业设计园——中国(长沙)创新设计产业园更是携30余件代表长沙设计水平、独具湖湘特色的作品参展,令设计界惊艳。
  An ordinary computer bag turned into a body armor within a few seconds when people pulled it open, it was like one of the magical gadgets in spy movies; a future concept pickup with all-weather and non inflatable tires, super spotlights and kinds of outdoor equipment had drawn the attention from the public. These cool products are made by Hunan designers who debuted in the National Industrial Design Exhibition held in Wuhan International Expo Center, Hubei Province ,December 1. It is the first exhibition for national industrial designs. China (Changsha) Innovative Design Industrial Park, Hunan's first industrial design park, took more than 30 pieces of designs to the exhibition.
  作为湖南参展的唯一专业设计园区,中国(长沙)创新设计产业园72平方米的特装展位上,32件本土设计精品涵盖机械装备设计、军警防护设备设计、农产品包装设计、文创产品设计等领域。其中获国家实用新型专利的隐藏式挎包防弹衣,折叠起来是个普通的电脑包、快递包,打开就轻松变成了一件强悍的防弹衣,仅重3公斤却可以抵御7.62毫米冲锋枪铅芯子弹的扫射。这件拉风的"特工神器"引起众多参观者的好奇试穿。
  As the only professional design park exhibiting in Hunan, China's (Changsha) Innovative Design Industrial Park had their special equipment booth of 72 square meters of for 32 designed products covering mechanical equipment design, protective equipment design for military and police, agricultural packaging design, cultural product design, etc. The bulletproof body armor won the national utility model patent. When it folds up, it is an ordinary computer bag or a package; when one opens it, it is a tough bullet-proof vest weighing only 3 kg, but it can withstand the 7.62-mm lead-bullet shooting by a machine gun. Many curious visitors tried it on in the exhibition.
  Link: 首届中国工业设计展览会开幕 设计湘军惊艳首秀