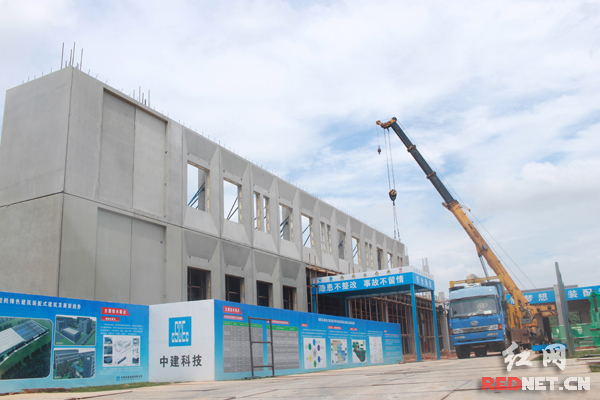 The photo shows the prefabricated construction site of CCT Tech complex building in Ningxiang Economic and Technological Development Zone. Workers can produce a wall in 40 minutes and a floor in three days. With advantages of easy control of construction quality, short construction period, less construction energy consumption, etc., the prefabricated building mode has been changing ecology of the construction industry, and has become the new development trend of China construction industry.
  据红网时刻报道,近日,长沙市人民政府办公厅印发《关于进一步推进装配式建筑发展的通知》(以下简称"通知"),明确从2018年1月1日起,湖南湘江新区、长沙高新区、长沙经开区及内五区三环线以内区域,新供地的商品房项目全部采用装配式技术进行建造,单体建筑预制装配率原则上不低于50%。
  According to Rednet news report, Changsha Municipal People's Government Office issued such notification that, from Jan. 1, 2018, newly-built commercial housing within third-ring roads of Changsha city shall be constructed in fabricated structure, including Hunan Xiangjiang New Area, Changsha High-tech Zone, Changsha Economic and Technological Development Zone and areas within third-ring roads inside five districts. And in principle, the prefabricated rate of single building shall be no less than 50%.
  Chinese source: 2018年起长沙三环线内新建商品房均采用装配式建造