双语丨元宵节在湖南 热热闹闹迎春天
  Colourful and recreational Lantern Festival in Hunan
  "今年元夜时,月与灯依旧。"赏灯会、猜灯谜自古以来便是人们过元宵节的传统。元宵节是中国人传统春节的最后一天,湖南各地一系列丰富多彩的欢庆活动将陆续上演。观赏花灯、吃元宵、看烟火、猜灯谜……各式各样流光溢彩的灯会和文化活动,成为元宵节亮眼的风景。
  The Lantern Festival is a Chinese festival celebrated on the fifteenth day of the first month in the lunisolar Chinese calendar. It marks the final day of the traditional Chinese New Year celebrations. Various traditional customs and activities are held during Lantern Festival in Hunan province that appeal to people of different ages, including watching lanterns and fireworks, guessing lantern riddles, performing folk dances, and eating yuanxiao.
  Firework:
  焰火闹元宵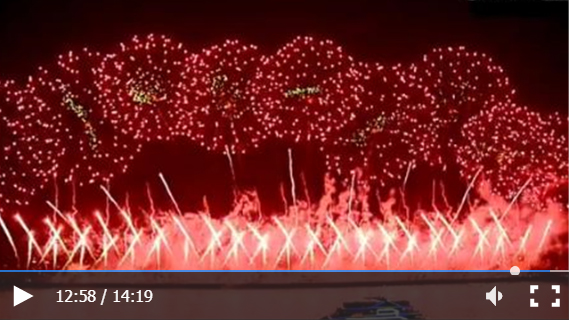 ---
  Lanterns:
  观灯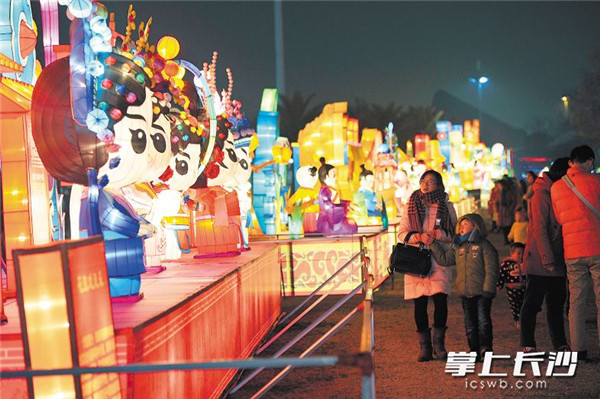 2018年橘子洲灯彩嘉年华活动目前在橘洲沙滩乐园举行,将持续至3月2日。本次灯展邀请自贡"非遗"传人精心打造了近50组大型主题灯光,每组灯光均根据园区不同区域的特色进行设计、制作。
  2018 Lantern Carnival is currently held in the Beach Park of Juzizhou Islet until March 2. There are 50 groups of themed large lanterns made by the inherits of Chinese traditional lantern culture from Zigong City in Sichuan Province. Each group of lights are designed according to the characteristics of different regions of the park.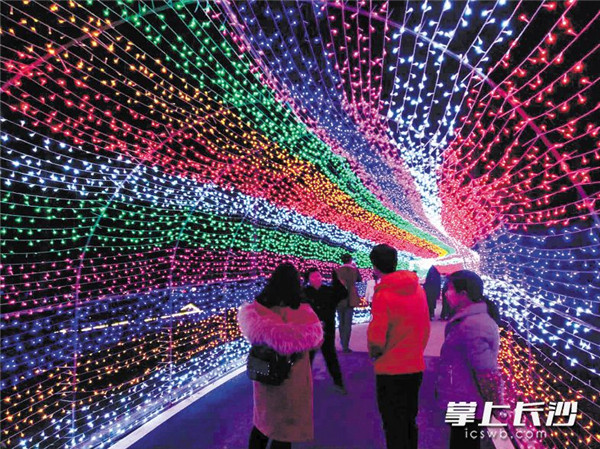 The activity "Colorful view of Liuyang River "for Lantern festival is held February 25 to March 31 in Jiangbei Town, Changsha County.It opens from 6.30 pm to 10.30 pm each night, the ticket price of 40 yuan per person, students having 50% off discount.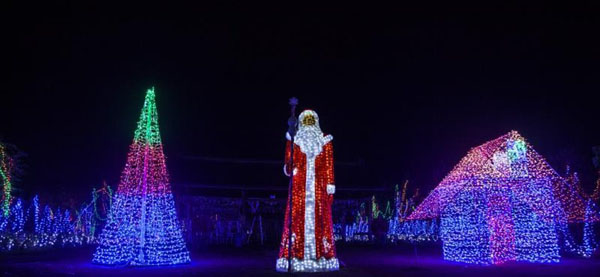 在浏河第一湾景区,夜幕降临后,由灯光造型营造出的梦幻氛围,将游客瞬间带入充满想象的神秘国度。"醉美浏阳河·梦幻第一湾"首届浏阳河水上灯光艺术节将持续到3月,2000平方米的大溪岛外围被蓝色灯光环绕,倒映在浏阳河上,仿佛与世隔绝的仙境。
  In the scenic area of the first bay of the Liuyang River, after the night falls, the dreamy atmosphere created by the lanterns bring visitors into the mysterious country of imagination. The first Liuyang River Lighting Festival will last until March. The 2,000-square-meter Daxi Island is surrounded by blue lights in Liuyang River.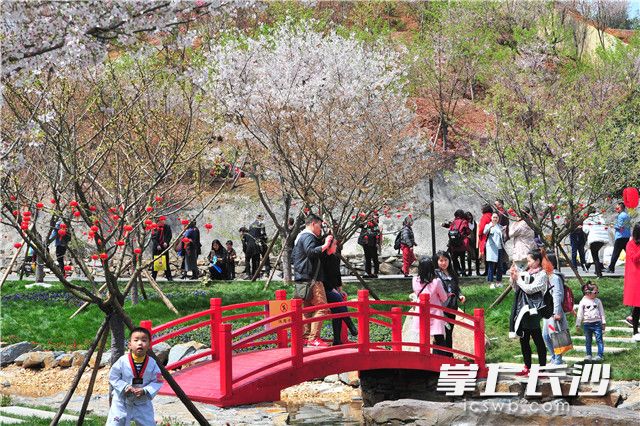 "白天看花,晚上看灯",灯海与花海交相辉映,这便是"龙跃浔龙·2018浔龙河动感幻彩樱花灯会"。该灯会将持续至4月7日,在浔龙河樱花谷打造长666米的彩灯隧道巨龙。
  "To see the flowers in the day and lanterns at night" is what people do in Sakura Valley of Xunlong River . The lantern exhibition will last until April 7, showing a 666-meter-long lantern tunnel of a dragon shape in the Sakura Valley in the Jiulong River.
---
  Guessing Lantern Riddles
  猜灯谜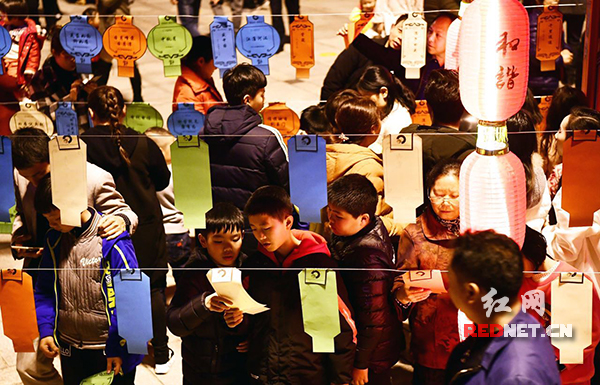 Starting from March 2, Hunan Provincial Library has prepared a variety of activities for its readers and citizens for guessing riddles, reading books, read children's book, experience virtual reality, etc.
  赏灯猜谜庆元宵 Guessing riddles
  2018年3月2日(周五)9:00-16:00;March 2: from 9am to 4 pm
  开心故事绘《元宵节》 Reading Books about Lantern Festival
  Content: Reading Children's book about Lantern Festival, to make lanterns.
  通过讲读绘本故事《元宵节》,让孩子了解元宵节的来历亲子活动环节,动手制作灯笼,体验亲子阅读带、民俗习惯,再通过来的乐趣。
  2018年3月3日(周六)15:00 March 3: at 3 pm
  中华传统佳节图片展 Photo and picture exhibition for Lantern Festival
  2018年2月—6月;From February to June.
  品网络书香体验虚拟现实 Virtual Reality
  2018年3月2日—4日 March2 to March 4
---
  Eating Yuanxiao
  吃元宵
  Yuanxiao, also called tangyuan, is a dumpling ball made of sticky rice flour stuffed with different fillings. Eating yuanxiao has become an essential part of the festival.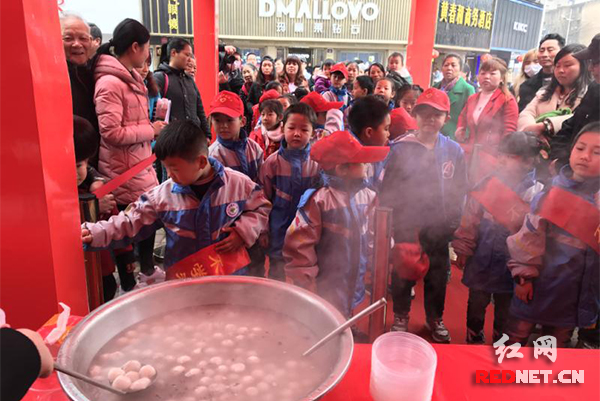 The activity of Huangxing Road pedestrian street in Changsha City delivers 10,000 bowls of free Yuanxiao in Lantern Festival for 4 hours.
---
  Other activities in Hunan Province:
  湖南各地活动
  Changsha 长沙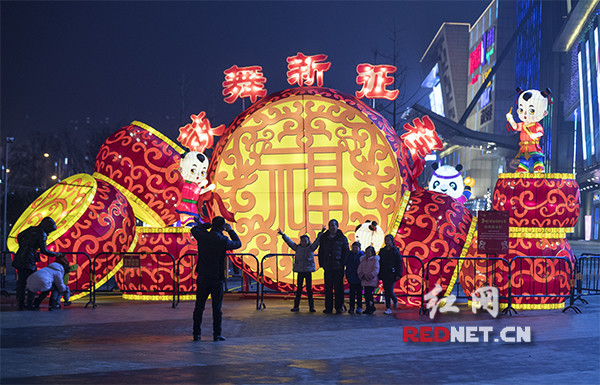 Meixi Shopping Mall of Better Life group in Changsha City has lanterns for the festival.
  步步高梅溪新天地也为这场团圆盛会做足了准备。3月2日14:30-15:00步步高梅溪新天地的时尚广场将有高跷表演,15:00-15:30梅溪大街将有民俗艺人互动合影变脸表演,17:00-18:00梅溪大街灯谜区将有猜灯谜,财神派喜等活动。
  Liuyang 浏阳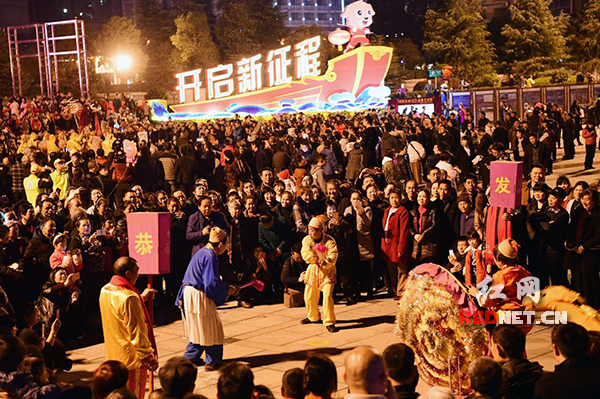 In the evening of March 1, Liuyang Square has been surging, Liuyang City. Traditional literary performances, guessing riddles , mobile museum, immortalized exhibition and other activities staged one after another.
  Hengshan Moutain Area: 南岳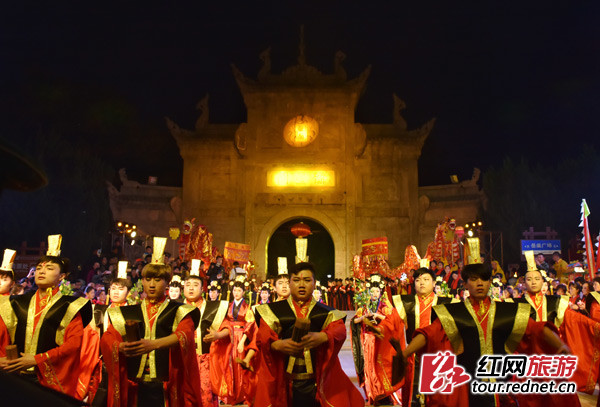 火灯节是南岳衡山一带传承千年的古老风俗,当地人在元宵节前一天成群结队到南岳大庙或祝融峰迎取祝融圣火,并用香火龙和抬地故事游街等形式庆祝。
  Fire and lantern festival is the ancient custom of thousands of years for blessing the new year for the local people near Hengshan Mountain . Local people flock to Nanyue Great Temple or Zhurongfeng Peak to welcome the holy fire of Zhurong before the Lantern Festival, and they celebrate it in the form of incense dragons and raising stories parade.
  Zhangjiajie: 张家界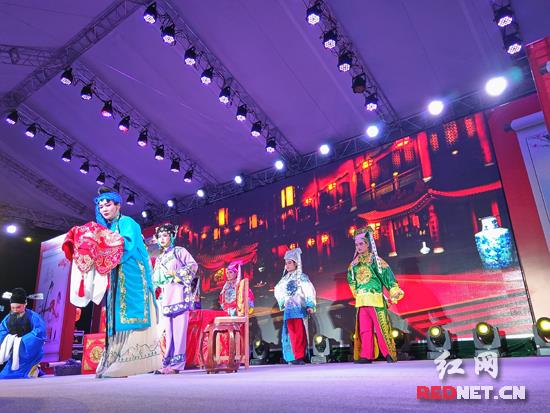 The activity of "Zhangjiajie:Happy Lantern Festival " is held for 2018 Lantern Lantern Festival showing the performances of intangible cultural heritage on the public square in Zhangjiajie including regional operas.
(来源:红网、长沙晚报 编辑:李莎宁)