【编者按】红网记者直击第十三届全国人大代表湖南代表团赴京履职随身携带的宝贝。在对宝贝的亲切诉说中,无一不透露出他们用心代表人民,用心为人民发声的拳拳之心。
  [Editor's Notes] Rednet journalists reports carry-on treasures of the 13th Hunan NPC deputies on their way to Beijing for duty performance. From their cordial telling about carry-on treasures, they speaks for the people with all their heart.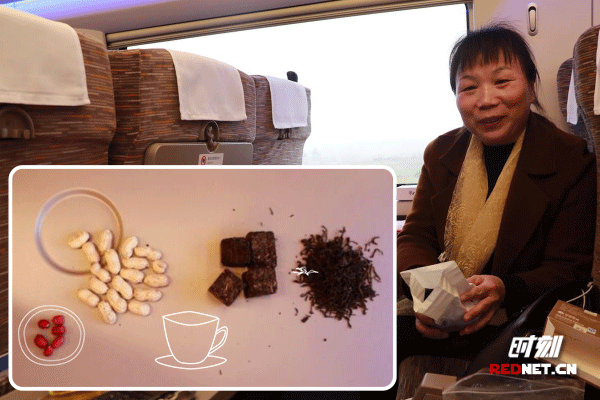 A village secretary named Xiao Youxiang from Anhua county, Hunan carries her hometown's special local products, red-skin peanuts and Anhua dark tea. She expects that Hunan special agricultural products will be more well-received across the world.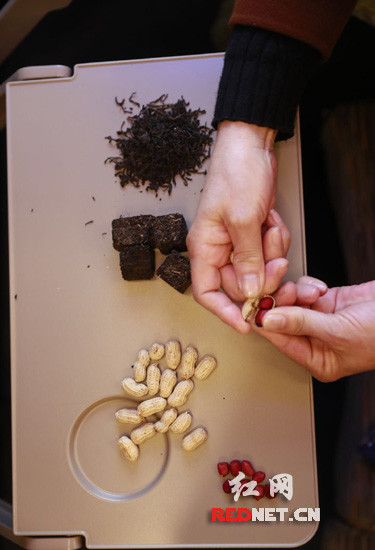 Anhua red-skin peanuts: Peanuts have about 30% proteins and abundant vitamins (most Vitamin E). Their red skins, a kind of safe natural pigment, can nourish human blood and beautify human hairs.
  安化黑茶:黑茶中的冠突散囊菌,俗称"金花",是一种有益微生物。金花促进消化,分解脂肪。金花越多,说明茯砖茶的品质越好。科技维度推动黑茶创新,黑茶从边销茶蜕变成国内热销的健康茶、时尚茶,走出国门。
  Anhua dark tea: The tea contains beneficial microorganism eurotium cristatum, generally known as "Golden flowers", which can improve digestion and break down fats. The more golden flowers, the better Anhua dark tea. With technical innovation, Anhua dark tea has become popular health tea at home and abroad.
  Chinese link: 代表的宝贝①丨村支书带着"脱贫三件宝" 车上请大家品尝