Changsha, capital of Central China's Hunan province, and the American city of New Haven have built a bridge of friendship, as leaders of the two cities signed an agreement on April 10.
  Changsha Mayor Hu Zhongxiong and his US counterpart Toni Harp met in the Central Chinese city to discuss establishing friendship city relations.
  Located in the eastern US, New Haven is home to the world-renowned Yale University. The city has cherished a long relation with Changsha.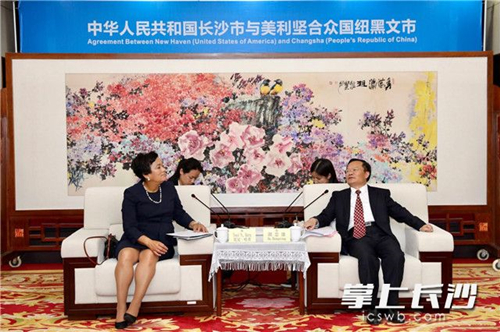 Hu said that it's expected that both sides will further improve mechanisms and set up platforms to enhance cooperation in fields of education, science, culture, health and economic activity.
  The two cities can make their respective advantages complementary to each other and achieve win-win results with a view to breaking new ground for mutual communication and exchanges at higher and wider levels, Hu pointed out.
  To explore more cooperation possibilities, the US delegation visited the Hunan Provincial Museum and the XiangYa School of Medicine under Central South University and Yali Middle School, and held discussions with representatives from Changsha enterprises.