双语丨湖湘匠人:80后文物修复师
  Hunan Cultural relics restorer born in 1980s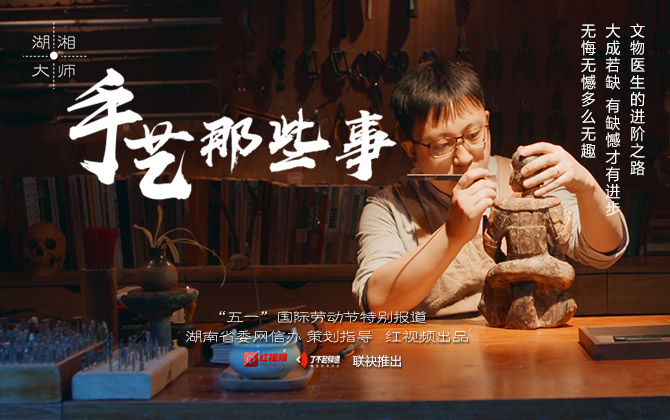 Liu Zhou, born in 1980s of Hunan province, China, is dedicated to restoring repair of cultural relics that cannot be noticed in naked eyes.
  培养传承人:他每届有三十个学生,每个学生有一份三千片的拼图。他把每个学生的三千片拼图混在一起,变成九万片,让他们在这九万片中间,找出属于自己的那一组,把他拼复完整。其实,真正能坚持下来的只有三到五个人,然后在他们中间,去考核他的人品、耐心和细致程度,然后再逐步教每一类的修复。
  How to cultivate inheritors: Liu recruits 30 learners every year. Every learner has a jigsaw picture formed by 3,000 pieces. Liu mixes their total 90,000 pieces of jigsaw pictures together and asks each learner to find out and restore their own pictures completely. Finally, there would be three or five learners sticking to the last. Then Liu assesses their characters, patience and meticulous quality, and teaches them how to restore each kind of cultural relics gradually.
  匠心语录(Liu's genuine remarks):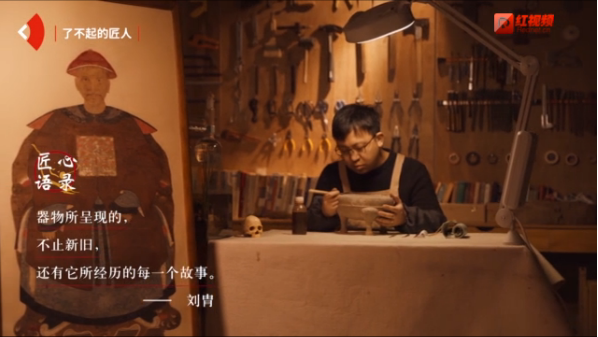 每一件东西,第一次没修好,就永远回不去了。
  Each article of cultural relics will never go back if its restoration fails for the first time.
  整个文物修复过程中间,最麻烦的其实不是前期的繁琐工序,而是最后一道怎么让它的裂缝为零,看不出任何瑕疵。
  In the whole process of cultural relics restoration, the most troublesome thing is not preliminary tedious process, but how to make the final restoring process look flawless.
  文物修复师可能会有完美主义者,想把所有东西修复得非常精致,就会逼迫自己想很多方式去完成,这样工作起来才有激情和意义。
  A cultural relics restorer may be a perfectionist who will try every means to restore all cultural relics to a very delicate degree. This is where his/her passion lies.
  器物所呈现的,不止新旧,还有它所经历的每一个故事。
  Each article of cultural relics not only presents old and new appearance, but also carries historical stories it ever experienced.
  文物修复的最终目的其实是延长文物寿命,很多小的地方我们可以遗弃掉,重新用新的材料补,但是每一件文物背后,都有它的一些感情在里面。当你每次维修的时候,遗失掉一点细节,最终它将变成一副新的画,所以只要能保存下来的碎片,我们尽量的要还原上去。
  The ultimate purpose of cultural relics restoration is to prolong life span of cultural relics. Although we can abandon many tiny fragments and restore them with new materials, each tiny fragment also carries historical affection it ever experienced. Thus every time we restore cultural relics and lose a tiny detail, it will turn into a new fragment. As long as the old fragments can be preserved, we should try best to restore them.