A 3D zebra crossing has recently made its debut on a road in Xingsha, Changsha county, Central China's Hunan province.
  Not only does the new zebra crossing in yellow, white and red feature a nice look, but also enhance warning function for passing vehicles, csxnews.com reported on Jan 28.
  The zebra crossing is on the junction of Kaiyuan West Road and Shizhong Road. With white background being highlighted by yellow and red colors, the new-look crossing has been successfully transformed into a three-dimensional one that easily attracts attention of both pedestrians and drivers.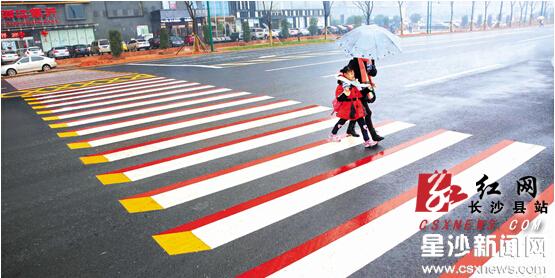 The new 3D zebra crossing on Kaiyuan West Road in Xingsha, Changsha county [Photo by Zeng Shiyi/csxnews.com]
  "It is so magical! It looks more like a roadblock watching from afar, and I couldnot help to slow down before I found out it is nothing but a zebra crossing," said a driver surnamed Wu.
  "It works well so far, as more and more passers-by tend to walk on this new zebra marking and more drivers give way to them." said a traffic policeman from Changsha county. He added that quite a few drivers did not used to be giving way to pedestrians but now they slow down consciously because of the colorful 3D zebra crossing that looks like a roadblock.
  Up until now, all crossroads on the section of Kaiyuan West Road that goes from Shizhong Street to Dongsheng Street have had the 3D zebra markings drawn up, said a principal from the facility department of local traffic police, adding that it will be further promoted if it is well received by the public .
  Edited by Zhang Qiong, Mevlut Katik