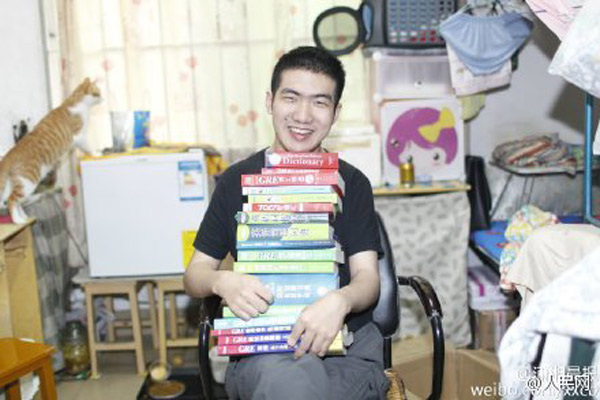 Mo Tianchi poses with his books. (Photo from Sina Weibo)
  Suffering from cerebral palsy doesn't mean Mo Tianchi will give up. The young man has earned his bachelor's degree from Central South University, is nearly finished with his postgraduate studies and is now applying for PhD programs in the U.S..
  "I have received some responses from PhD supervisors from Stanford University, Carnegie Mellon University and Purdue University, which I have applied for PhDs," Mo said to xxcb.cn, though he has to wait two more months for the final admission results.
  Mo Tianchi was born in Changsha, Central China's Hunan province. When he was seven days old, he almost suffocated because his respiratory tract was clogged with milk. He became a child with cerebral palsy and was not able to speak or walk until he was two years old.
  Slurred speech, an unusual walk and slow handwriting, one-third of someone's typical speed, have accompanied Mo since then.
  However, the strong boy never gave up.
  During primary school, Mo was praised for his good study habits and attitude each year. He was recommended to the High School Attached to Hunan Normal University with straight A's in all major subjects when he graduated from junior high school.
  After being admitted to Central China University with a score of 604, which is 146 less than the full 750 points, on the college entrance examination in 2010, Mo was recommended to pursue a master's degree at the School of Welfare at the university in 2014.
  The young man began to prepare for TOEFL at the beginning of 2015 after he became determined to earn a doctoral degree in artificial intelligence at a prestigious university in the U.S..
  "He is allowed not to do speaking section of TOEFL. Then he got 86 out of full 90 marks at a TOEFL test in 2015," said Mo's mother Qi Yan, adding that Mo got 329 out of 345 on the GRE test this August.
  "My son studied almost eleven or even twelve hours except having meals and sleeping each day," said Qi.
  However, Mo also had to deal with cervical spondylosis, so Mo had to keep riding a bike to exercise and build up his body.
  "I have much free time in recent months, so I would like to help some others prepare for TOEFL and GRE tests, besides continuing applying for PhDs and preparing for graduation," said Mo.
  The young man's story moved and encouraged many internet users. Some said that Mo has more talent than them, while others felt inspired by Mo. Seeing Mo's success, they said they don't have any reason to not work hard.