A master palm weaving work by Changsha locals Zhou Jialin and her husband Huang Xiaoping is on display at Changsha Museum from Jan 30 to Feb 11 to celebrate the Year of the Rooster.
  The work is called Bai Niao Chao Feng and evokes a famous Chinese expression that describes 100 birds paying homage to a phoenix. The phrase is often used to symbolize a time of peace and stability under a wise ruler.
  The work of art is composed of 100 different varieties of birds, two phoenixes, and spans 1.2 meters in length and three meters in height.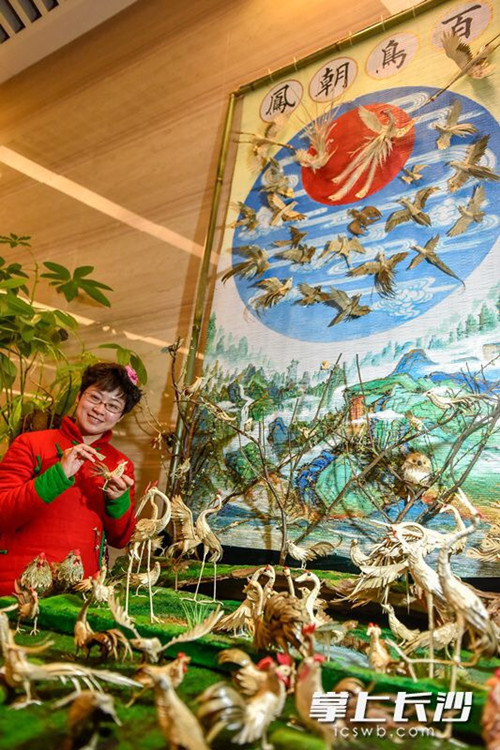 The work by Zhou Jialin and her husband is three meters high. [Photo by Chen Fei/Changsha Evening News]
  The married couple spent two years on the artwork and exhibited innovative weaving skills through accurately portraying a variety of birds and capturing authentic personality. One particularly astute touch was weaving roosters with palm leaves and hens with soft palm fibers to indicate their difference.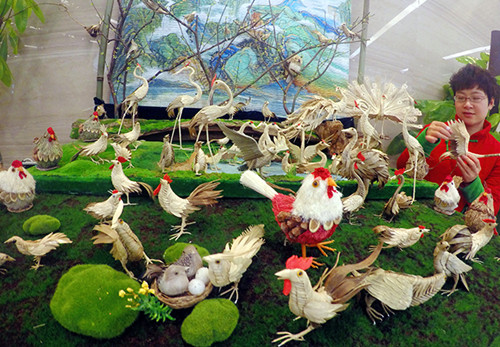 The work includes 100 birds all exhibiting different postures and expressions. [Photo by Song Guoqing/Hunan Daily]
  The work combines traditional weaving, modern innovation, and contemporary trends to create a dynamic and unique display. It is sure to attract a great many guests over the coming days.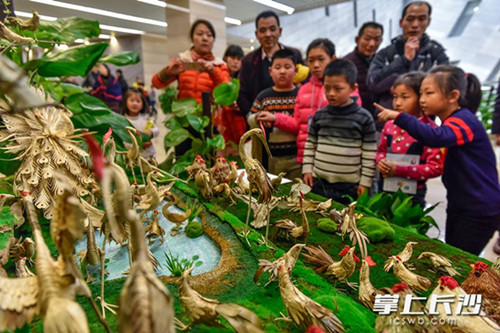 Children show great interest in the lifelike birds on show in Changsha Museum. [Photo by Chen Fei/Changsha Evening News]
  Source: Changsha Evening News