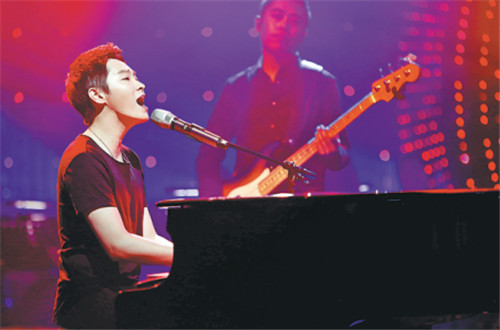 Liang Bo won the first season of The Voice of Chinain July 2012. Since then, he's been calmly singing his own songs, taking time to explore the US, and discovering things like African-American soul music in his own quiet way.
  For young Chinese singer-songwriters, one of the most powerful promotion tools is reality television. And 26-year-old singer-songwriter Liang Bo is one of the successful examples.
  He won the first season of The Voice of China, a popular reality TV show broadcast on Zhejiang Satellite TV, which premiered in July 2012. Then, he released two full-length albums, which featured the young musician's original pop-rock material.
  Recently, he returned to the screen by participating in the reality TV show, Singer, in which professional singers compete and audiences vote.
  The other competitors in the show were Hong Kong singer Sandy Lam Yik-lin and Taiwan singer-songwriter Jam Hsiao.
  "People got to know me because of the television show five years ago. However, in that show, I had to perform other singers' songs," says Liang, who started songwriting in high school.
  "With this TV show, Singer, I am allowed to perform my own songs, which is very important to me. I want people to hear my music, and I want to tell my stories with music."
  One of the songs he performed is Sunset Boulevard, which is in Liang's second album, Mi Cang(2015). Two new songs, Boy and Soul Singer, were premiered in the show.
  The three songs were written when Liang spent over a year living in the United States after he won at The Voice of Chinain 2012.
  Just when people expected the young singer-songwriter's career to take off, Liang slowed down. He visited San Francisco and Los Angeles, where he performed on the streets, in the bars and met people.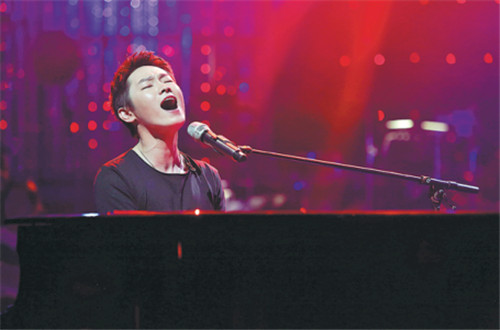 "Nobody knew me and my English was not very good. But I had great fun there," says Liang.
  The song, Boy, is about a girl he met in San Francisco.
  Sunset Boulevard was where he visited often, especially the instrument shops. There, he watched unknown artists perform on streets.
  Meanwhile, Liang has dedicated the song, Soul Singer, to an African-American street singer he met there. "I don't know his name but called him 'chief'," says Liang.
  "He took me to dinner and taught me about soul music."
  "He didn't sing for money or fame. He sang because he had a passion for music. That's why his music is so touching," says Liang. "I want to be a singer like him."
  "I am a person who is not good at handling fame. So, I just do it at my own pace," he adds.
  Born in Changchun, Jilin province, in Northeast China, Liang wanted to be a singer-songwriter since he got his first guitar at 12. It was a birthday gift from his mother.
  He says that he has been ready for the music industry for years.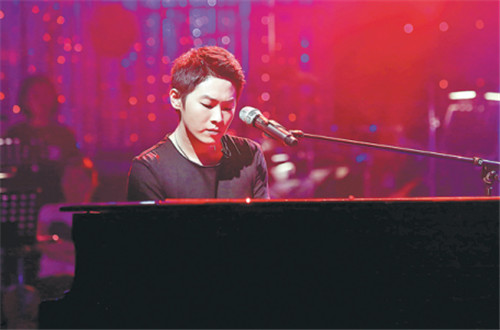 Liang says he learned the guitar at a local music-training center, where he met professional singer-songwriters.
  He recalls that he was so obsessed with the instrument that he drew six lines on his desk in school, resembling guitar strings, and practiced day and night.
  At 13, he started doing songwriting.
  Then, in 2009, Liang was admitted into the Jilin College of the Arts, majoring in pop-music performance.
  "I don't have any routine for songwriting. It happens anytime and anywhere, even in the washroom," says Liang.
  Thanks to his original songwriting and low-profile image, some critics compare the young singer-songwriter with established rock musician Dou Wei, who has withdrawn from the limelight and has been focusing on producing instrumental albums.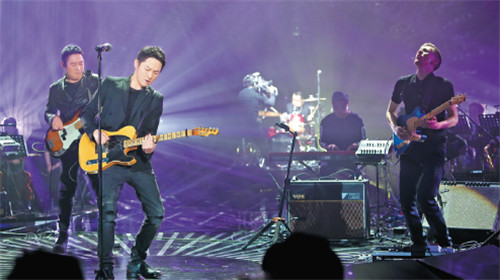 Speaking about Liang, pop star Na Ying, one of the judges in the reality TV show, The Voice of China, says: "I can visualize pictures when I listen to him singing. He is calm, which is rare for a man in his 20s."
  He calls kungfu legend Bruce Lee as his main musical influence. For Liang, music and Lee's martial arts have a lot in common.
  "I watched Lee's movies in middle school and read books about him. He is a philosopher," says Liang. "In a fight, he simply blocks and strikes instinctively without a concern for what is right and wrong. He also opens to various schools of martial arts. It's also true for a singer-songwriter to be sharp, straightforward and open to various kinds of music."