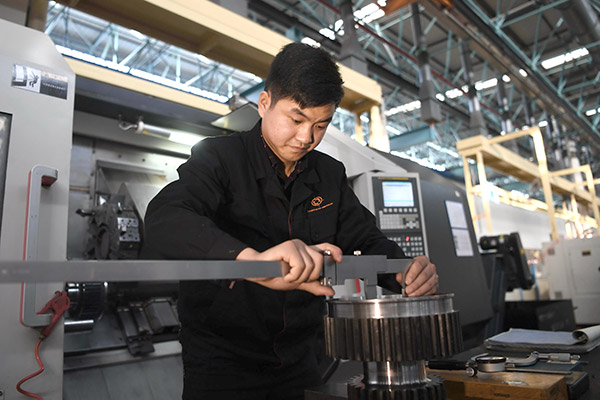 Govt official says technology is helping to boost the efficiency of manufacturing

  Advanced computer numerical control machine tools, or CNCs, have boosted China's key manufacturing sectors and added over 70.6 billion yuan ($10.3 billion) to industrial output over the past eight years, a senior government official told a media briefing on Monday.

  CNC machining is the automated process in the manufacturing sector, where computers are used to control machine tools such as lathes, mills and grinders.

  They produce precise parts and increase productivity. China has invested 9.1 billion yuan in R&D since CNCs were listed as one of 16 national science and technology major projects in 2009, and their utilization has made smooth progress, said Luo Junjie, a senior official from the Ministry of Industry and Information Technology.

  "CNC machine tools are vital for the country's major manufacturing areas such as the auto, nuclear power, aeronautics and astronautics sectors," said Luo.

  "It was behind the success of some keynote projects as the launch of Long March-5 heavy lift carrier rocket and the Tianzhou 1 cargo spacecraft," Luo added.

  Lu Bingheng, chief engineer of the National Additive Manufacturing Innovation Center, said that in 2016 the Chinese-proposed testing standards for five-axis CNC machines gained international approval.

  "It is the first standard China has set for high-tier CNC machine tools," Lu said.

  The rapidly progressing local CNC technology is also breaking into a market dominated by foreign technology. According to Lu, domestic high-tier CNC technology has caught up with international standards and its market share of the Chinese market has expanded from 1 percent to 5 percent. It has been applied in massive production in important sectors such as aeronautics, astronautics and military.

  Medium-end CNCs have also secured a quarter of domestic market in 2016, a jump from the previous 10 percent in 2009, with total sales now at around 4 billion yuan in the past eight years.

  The ministry's Luo said Chinese-made punch press production lines for automobile parts had taken 30 percent of the global market. "We have exported our production lines abroad to, among others, Ford Motor Co in the United States," Luo said.

  Shenyang Machine Tool Group, one of the leading companies in independent CNC R&D, said it had developed a number of intelligent and online customized machine tool manufacturing modes.

  "We used to supply products to customers, but now we provide a set of solutions" said Guan Xiyou, chairman of the group.

  "It is a transformation from being a manufacturer into becoming a product services provider."

  In the 13th Five-Year Plan (2016-20), the goal of the CNC project was to improve domestic R&D capabilities and catch up with advanced countries. Ministry official Luo said that by 2020, the domestic CNC sector should be able to meet 80 percent of manufacturing demand from key areas like aviation, aerospace and automobiles.