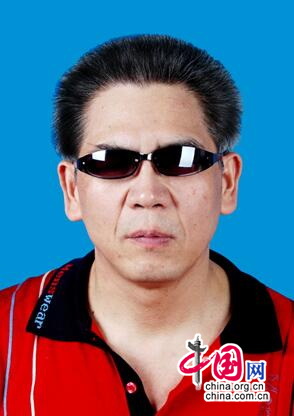 Yang Decai.[photo/china.org.cn]
  Recommended by: Changsha municipal Disabled Persons' Federation
  Yang Decai was a middle school teacher in Changsha. Twenty years ago, Yang lost the vision of both eyes in a car accident.
  After fighting with despair and sorrow in his blind world, Yang became a skilled blind masseur. Over the past 20 years, he not only started his own business, but also offered help to hundreds of people with disabilities and set up an art troupe for the disabled and a volunteer center for minors and seniors in need.
  Although Yang could not see the world, he brought hope to thousands of people around him with his love and hard work.
  Surviving a car accident
  Yang Decai became a middle school teacher in Changsha in the 1980s. He was living a happy life until a car accident took away his eyesight in 1997.
  Yang still remembers the tears of his wife, children and students when he was lying on the bed in a hospital. "How could I face my family, my students, my school and society?" Yang was so desperate that he once thought about suicide.
  But with encouragement from his friends and family, Yang changed his mind. He got to know a blind professor who helped him continue his research and study on a computer. The professor helped Yang realize that he should never give up on his life but should be strong and face the challenges with courage.
  From teacher to masseur
  Yang was able to see some light after the car accident, and he continued his job as a history teacher for some time. However, his sight was finally totally lost, and he had to leave school. He decided to become a masseur.
  After 4 years of research and practice, Yang got the qualification of senior traditional Chinese medicine masseur and set up a blind massage parlor in Changsha.
  He also set up an employment service center for people with disabilities to provide free massage training to the disabled, laid-off workers and children of migrant workers.
  Yang has helped 284 people find jobs since 2004. Li Fangjun, one of Yang's students, said that Yang never receives money or gifts from his students, and often help his students when they have difficulties.
  Charity work
  Yang has been doing charity work and providing free training for people with disabilities for 12 years.
  In 2015, Yang set up an art troupe for people with disabilities in Changsha, and employed 120 blind people from Hunan province. They have held about 10 charity performances for local audiences.
  Apart from people with disabilities, Yang also helped many non-disabled people.
  Yang offered free massages to hundreds of seniors aged over 80 in a local community. To date, he has provided 29,000 hours of free massages to local seniors.
  Yang's health has not been good since the car accident. He often needs to take extra oxygen to fall asleep at night, and he carries with him several kinds of medications during the day. But he has never stopped helping others.
  Yang set up a charity class in his community to teach writing, history, and other courses. More than 20,000 people have received education in the class.
  "Money in a bank account does not mean anything. Only that spent on charity work makes a difference," said Yang, "I will devote the rest of my life to charity work and let more people feel the love and warmth of our world."