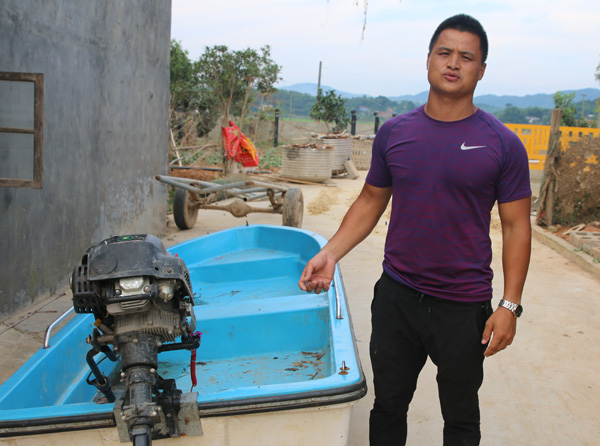 Tang Wei stands beside his boat, which he used to carry more than 300 people to safety during a flood last month in Nanping village, Ningxiang city, Hunan province.[WEN XINZHENG/CHINA DAILY]

  A 34-year-old man who saved more than 300 people from rising floodwaters is a hero in his hometown.

  In Nanping village, Hunan province, Tang Wei is now a widely known name, and he's receiving a lot of praise. For many, he was literally a lifesaver.

  Heavy rains from late June to early July caused flooding along several tributaries of the middle and lower Yangtze River. The level of the Xiangjiang River in Changsha, Hunan province, stood above 38.3 meters at 11:42 am on June 30, well past the warning level of 36 meters, according to the Hunan Hydrological Bureau.

  The rain triggered flash floods, damaged mountain roads and saturated the ground, raising the risk of landslides. Fifty kilometers northwest of Changsha, Nanping found itself in the center of the flood zone.

  Early in the morning on July 1, Tang was busy working at a home-decoration company when he received a call from his mother, who was shouting for help. He rushed home to find water at the doorstep.

  Fortunately, his family had already been transferred to safety. But instead of retrieving valuable property in the house, Tang turned to save other residents.

  Situated in a low part of a mountainous area, Nanping experiences flooding almost every year. In 2013, Tang spent 10,000 yuan ($1,470) to buy a boat for emergencies. A few days ago, he used it to save more than 300 people.

  Tang Guobin, 70, whose family of four were all saved by Tang Wei, has seen many flood seasons.

  "I've never seen such heavy flooding in my whole life. Floods do happen, but in most cases it doesn't pose a threat to our lives or property," he said.

  Days before, the local government had sent alerts, but most residents didn't think flooding would be heavy and many remained at home.

  Zhao Jianhua, 54, stayed home with his wife until there was no escape. They were saved by Tang Wei 30 minutes before their house collapsed.

  "We were standing on a narrow wooden board on the roof and were shaking with fear and cold. If Tang hadn't been there, it might have been our last day," Zhao said.

  From 9 am on July 1 until 4 am the next day, Tang and three of his friends worked to rescue people-from infants to the elderly-who were trapped by the flood. While hundreds were rescued, Tang's own house was soaked, including appliances and a motorbike that had cost him a year's salary.

  In the 18 hours of rescue and relief work, Tang ate only a few cookies and drank a little water. Residents said he has put the interests of others above his own since he joined the Communist Party of China in 2011.

  Speaking of his actions during the flood, Tang was modest: "I grew up here. Our village is small. We look at each other as family members. To save them is just an instinct that needs no explanation."