As more young people head abroad to study, the demand for student accommodations is growing rapidly

  "I was not feeling good in the house. My roommate and landlord were not easy to get along with, so I moved one month after I arrived in Britain," says Liu Tianyi, a 26-year-old master's student at Durham University.

  In 2015, Liu, a native of Zhuzhou, Hunan province, went to the United Kingdom to study international social work and community development. Before leaving China, she found a house through her friend on Sina Weibo, a Chinese micro blog.

  Liu knew nothing about the house until she arrived in the UK.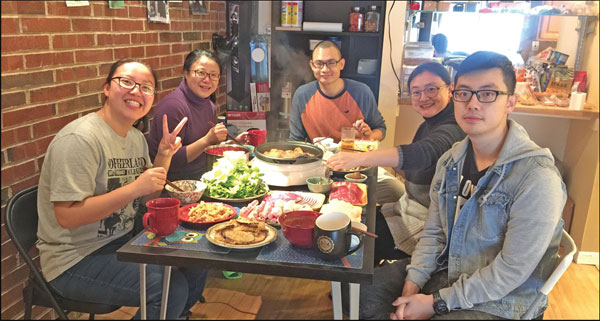 "The house was on a hill and very far away from downtown Durham. And my landlord was not friendly," says Liu.

  For Liu, life abroad was different from what she had imagined. She was not prepared for the problems.

  Today, there are many students like Liu who struggle to find suitable accommodations abroad.

  Growing demand

  By the end of 2015, 1.26 million Chinese were studying abroad, about 25 percent of the world's total, according to a report by the Beijing-based think tanks Center for China and Globalization and Chinese Academy of Social Sciences.

  The overseas student accommodations market has great potential.

  "If we look at the rents in cities across the globe, then we're looking at an industry valued at around $150 billion," says Luke Nolan, CEO of student.com, a platform with headquarters in the UK that provides an overseas student accommodations service.

  Liu returned to China after a one-year program.

  Speaking about her experience, she says that she should have put in more effort in finding a house.

  "Taking the initiative is crucial," says Liu.

  New media platforms offer a way for students to look for accommodations.

  Zhang Le, a 31-year-old music education doctoral student at Pennsylvania State University in the United States, found a house by going online.

  "I found a house through Penn State's BBS," says Zhang, a native of Shuangyashan, Heilongjiang province. "After I got the contact of the landlord, I told him to download WeChat (a Chinese messaging app), through which we could communicate."

  This helped Zhang to understand the neighborhood and the ways of commuting. Now she lives in a two-bedroom house with her husband.

  Overseas study is no longer only for the young, as many older students now take along dependents, just like Zhang.

  "I had to plan in advance, as my husband was to stay with me. I was fortunate to find a good house, but it could be difficult for those who are young," says Zhang.

  Even as demand for overseas accommodations by students from China grows, there is still no convenient way to find housing, since this is an industry with both complexity and variety.

  "Almost every city in China has students going to a huge range of destinations, including the UK, the US, Australia, Canada, France and Germany," says Nolan.

  "Students from different countries have different needs, and the property markets are different, too."

  Li Jiabao, a 23-year-old law student at Sciences Po in Paris, says that international students from non-European Union countries need a guarantor to rent a house in France.

  "In my four years at university, I was lucky that I had a roommate from Norway in the first year and then a Chinese agency that helped with the guarantor bit, but it was slightly expensive."

  Still, not every foreigner studying in France is as lucky as Li, a native of Shenyang, Liaoning province.

  Safety is key

  Besides the hardships in finding housing in different countries, safety is one of the main consideration for Chinese students, followed by location and price, according to an overseas student accommodations report by student.com.

  Zhang says: "I suggest that a freshman should live on campus for the first year. As for single female students, it would be better to find a roommate instead of living alone."

  In addition, colleges sometimes send out information.

  "Location really matters," says Li. "Some of my classmates lived in nearby cities, which were roughly a one-hour commute," Li says.

  Liu emphasizes that finding good accommodations eases the culture shock.

  "When I was in the United Kingdom, my roommates always hosted parties on the weekend. I am not the kind of person who socializes very much, so attending the parties helped me to immerse myself in the community," she says.

  For a lot of Chinese students, studying abroad is the first time they have been away from China or the first time they have lived by themselves.

  So, when faced with new languages and cultures, it can be quite challenging to adapt.

  Nolan says the notion of "student community" is vital.

  Zhang Zefeng and Su Yingle contributed to this story.