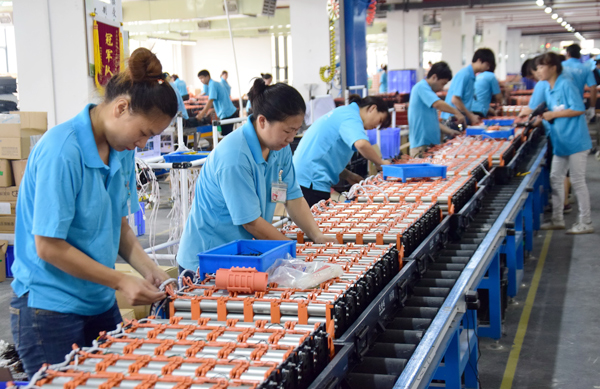 China is the world's largest market for electric cars and at the heart of this new energy drive is the lithium battery.

  The country's electronic vehicle sales had surppassed that of the Europe and the United States since 2016, and will continue to lead until 2040, said a report by Bloomberg New Energy Finance released in the end of July.

  In April, the government issued guidelines to raise the percentage of e-cars to more than 20 percent, or about 7 million vehicles, by 2025.

  Already new energy models have surged by 14.4 percent to 195,000 vehicles in the first half of this year, accounting for 1.5 percent of auto sales, according to the China Association of Automobile Manufacturers.

  Market potential is so huge that companies throughout the manufacturing chain are battling for supremacy.

  "China's new energy vehicle industry, as well as the power battery sector, has evolved into a stage where there are rivalries in technologies and resources," said Zhang Xiaofei, president of Shenzhen Gaogong Industry Research Co Ltd, an industrial analytic company, specializing in batteries, e-vehicles and new materials.

  Lithium battery production is growing at breakneck speed in China, fueling investment in research and development.

  This has triggered major breakthroughs in the sector as they become smaller and generate more energy.

  "We have invested a lot in research and development," said Chen Weifeng, assistant chairman of Contemporary Amperex Technology Ltd, a domestic battery maker.

  "Our R&D input in the past two to three years has reached 3 billion yuan ($447 million)," Chen added.

  Founded in 2011, CATL took advantage of the nascent new energy sector in China. The company has since become the major battery supplier of global brands such as BMW Brilliance Automotive Ltd, Zhejiang Geely Holding Group and BAIC Motor Corp Ltd.

  Data released by lithium battery specialists Realli Research showed that CATL has become one of the leading players in China. In the first half of this year, installed battery capacity at CATL reached 1,312.4 megawatt-hour, with a market share here of 20.98 percent.

  The company pulled clear of second-placed BYD Co Ltd, which accounted for 17.35 percent. Behind BYD were Shenzhen-based Optimum-Nano Energy Co and Hefei Guoxuan High-Tech Power Energy Co Ltd.