Changsha Economic and Technological (E&T) Development Zone, located in Changsha county, turned in a good report for the first half of the year, growing faster than all other state-level industrial parks in the Hunan province capital.

  The zone registered a total output value for large-scale industrial enterprises at 117.54 billion yuan ($17.62 billion) in the first six months, up by 14.6 percent year-on-year, with its large-scale industrial value-added reaching 27.5 billion yuan.

  During the six-month period, the park experienced a strong development momentum in export-oriented economy, completing foreign trade deals worth $1.56 billion and attracting foreign investment of $302 million.

  In addition, the zone has attracted 22 new projects each expecting an investment of 50-million-plus yuan, and a total investment of 14 billion yuan.

  Optimizing industrial structure has been proved as one of the impetuses driving growth in the development zone.

  In 2010, its heavyweight industry – engineering machinery accounted for 75 percent of the whole region's economic output, while the industries of automobiles and parts, and electronic information only occupied 10 percent and 3 percent, respectively.

  Today however, automobiles and parts recorded a total industrial output of 45.65 billion yuan in the first half of the year, a 39.6 percent year-on-year increase, making up 43.7 percent of the zone's total large-scale industrial output.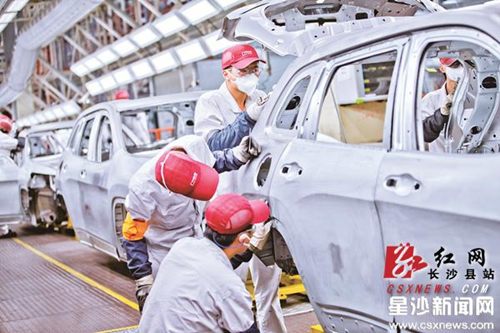 Workers check welding joints on a car in a workshop at GAC Fiat, based in Changsha Economic and Technological Development Zone, Changsha county, Hunan province. [Photo by Jiang Lian/csxnews.com]