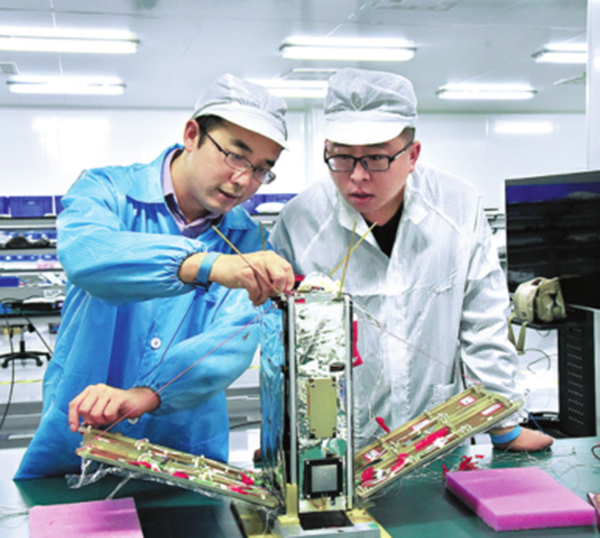 A new player in the space race is planning to launch 20 satellites by the end of 2018.

  Spacety Co Ltd will use most of them to supply data to research institutions and other business customers.

  "Some will be involved in microgravity experiments," said Yang Feng, CEO of the company.

  In the past, Chinese scientists found it difficult to conduct research in space. But now Spacety, which is based in Changsha, Hunan province, is offering a one-stop service at an affordable price to solve that problem.

  "This is a business model that turns out to be viable," said Yang, who failed to disclose detailed financial figures about the project.

  Still, his plan appears to be simple. Experiments will be carried out in space through Spacety satellites and the reams of data will be relayed back to clients on Earth.

  Last November, the company launched its first small satellite Ty-1.

  Weighing eight kilograms, it was able to upload four payloads for scientific research during its 12-month operational cycle.

  Earlier this year, Spacety developed the DIDO-2 in partnership with an Israeli startup SpacePharma.

  It was China's first satellite involved in studying microgravity as in an orbiting spacecraft.

  These "fully-booked" projects have already made a profit for the two-year-old company, Yang confirmed, without giving detailed financial numbers.

  In the second half of this year, five more satellites will blast off. They are also "fully booked".

  "Each spacecraft will be assigned up to five tasks in accordance to the demands of clients," he added. "We have no space left."

  In addition to research institutions, a growing number of companies have also shown interest in "reserving a knowledge seat" on one of Spacety's satellites.

  "Usually, it is internet companies specializing in big data," Yang said.

  "Even those in the solar energy business have talked to me about the possibility of space flight," he added, without going into details.

  Next year, one highly anticipated launch will involve a time-share satellite carrying an optical telescope.

  Clients will be able to rent the service by logging on to a web portal, and view distant stars in distant galaxies.

  "Our plan is to charge between 2,000 yuan ($295) to 3,000 yuan per hour," Yang said.

  Obviously, there is a market out there for space enthusiasts, as well as research scientists.

  Xing Zhigang works in a commercial bank during the day in Beijing but gazes at the sky at night.

  "These images will be much clearer than those captured by ground-based telescopes," Xing said. "They are often affected by light pollution and atmospheric disturbance."

  But will targeting amateur astrologists such as Xing prove profitable for Spacety? Yang admitted this might take time from what, at first, might be a small consumer base.

  Even so, the company has attracted investor attention.

  Leading venture capital firms, such as Matrix Partners China, Northern Light Venture Capital and Cash Capital, have provided funding, although Yang declined to disclose detailed figures.

  In the end, it will be down to enticing a clientele that has universal horizons. "We're open to all of them," Yang said.