Echoes of Canglang, an ongoing exhibition in Beijing, looks at Luo Erchun's artistic evolution over six decades. Lin Qi reports.
  Oil painter and educator Luo Erchun (1930-2015) always liked to visit the Canglang Pavilion whenever he returned to Suzhou, in East China's Jiangsu province.
  The garden built in the 11th century is one of the oldest classical gardens of Suzhou that were added to the list of UNESCO World Cultural Heritage in 2000. It was also once the location of Suzhou Academy of Fine Arts where Luo graduated in 1951.
  There, Luo studied under Yan Wenliang (1893-1988), where he progressed from an art-loving boy, hailing from rural Hunan province in Central China, to become a professional painter who began to build a visual vocabulary of his own.
  Echoes of Canglang, an exhibition now on at Beijing's Shixiang Gallery, looks at Luo's artistic evolution over six decades.
  And more than 30 paintings on show are from private collections at home and abroad.
  The exhibition opened on Oct 29, the anniversary of Luo's death.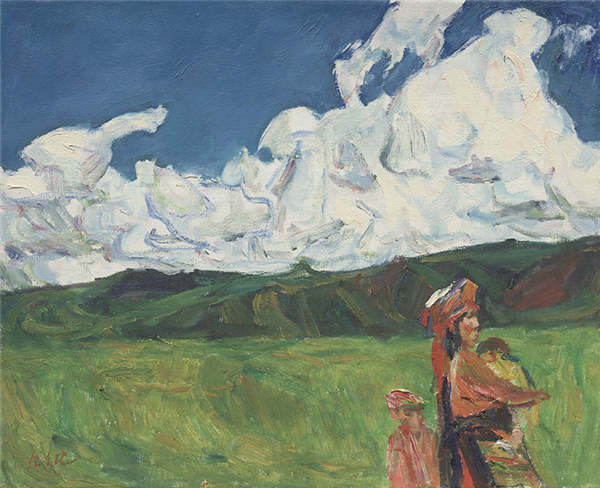 Luo was little known because of his low-profile manner. But an exhibition of his works held at the National Art Museum of China in Beijing a few months before his death increased his popularity.
  Visitors were then amazed by his simple compositions and the vibrant, delightful palette of his works.
  Luo did not leave his birthplace, a secluded village in Hunan province, till he was 16.
  He was sentimentally attached to it. And all his life, he had a strong bond with his hometown and similar countryside scenes he saw at home and abroad-the trees, crisscrossing streams and rolling hills.
  Oil painter Ai Zhongxin (1915-2003) said Luo's paintings touched people so much because he "loved life and nature much more than his exploration of artistic forms".
  In one oil work on show, Village Houses, Luo presents a serene rural landscape.
  "At first sight, one recognizes it a work of Luo because of the use of intense colors which was his oeuvre," says Li Dajun, a friend and collector who founded Shixiang Gallery.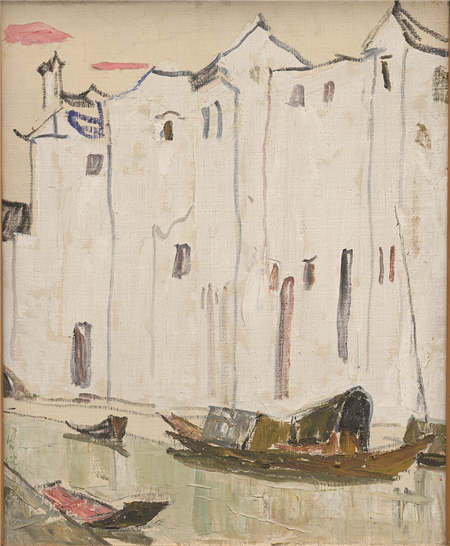 "The large area of red comes from his childhood memories of the blood red soil of his hometown. He said the land was reddened even more after the rain."
  The only ink-brush painting on show is a 14-meter-long scroll, titled One Hundred Chickens, which Luo painted in 2008.
  The calligraphic title was written by Huang Miaozi (1913-2012), a renowned artist and writer, when he was 98.
  Li says Luo liked the painting very much and he later understood why after he traveled to Luo's native village in Hunan province.
  "At his ancestral house I saw chickens all over the field. That scene was like what he depicted in the painting," says Li. "His paintings were his life."
  Zhan Jianjun, 86, an oil painter, longtime friend and colleague of Luo, shared a studio with him at the Central Academy of Fine Arts for several years.
  Zhan says that Luo was mostly quiet and sometimes restrained, and therefore people would be surprised by the impassioned, vigorous style of his paintings.
  "The eruption of energy in his art seemingly contrasts with his appearance. For people who didn't know him well, he was a man who didn't talk much," says Zhan.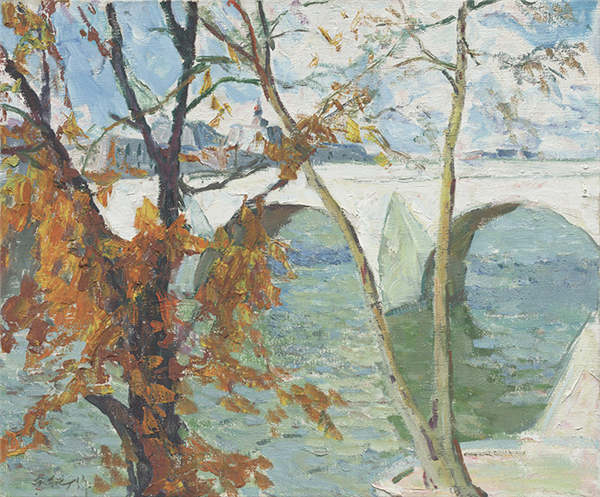 "But he had a strong character. He was very sensitive and insightful of things around him."
  One oil still-life on show, Painting Tools, shows three bottles in which there are various kinds of painting brushes, and which look like three men standing straight against a wall.
  Li says master painter Wu Guanzhong (1919-2010), a friend of Luo, singled the painting out from a catalog of Luo's works.
  "He (Wu) said it was brilliant. He said Luo may be vulnerable but never surrendered to criticism."
  In an article to remember Yan Wenliang, Luo compared the death of his teacher to "the sun that eventually sets below the horizon, leaving people to miss it a lot", but still he would inspire people like "the glittering stars in the sky and the hopeful dawn".
  "Wouldn't that be like the feelings we have for Luo?" asks Li.
  Li says that he plans to curate a memorial exhibition of Luo annually and show his works which have never been exhibited before.
  If you go
  9:30 am-5:30 pm, closed on Sundays, through Nov 21. E2 Jili International Art Zone, Gaobeidian, Chaoyang district, Beijing. 010-5691-6379.